A muggy morning in Bedford Stuyvesant, Brooklyn has me standing in front of a renovated three-floor walkup apartment building searching for the home of an old friend. Hisham, a design graduate of Virginia Commonwealth University's sister school in Qatar, is an incredibly talented ballgown designer. He has worked under many big names in the industry and is now forging romantic concoctions from his shared studio. This is coincidentally – and conveniently – the finished basement of his own home, a special find in New York City.
Surrounded by interesting textiles and mannequins that have all been lovingly named, one can immediately feel the magic of making things thick in the air. In the back garden, the sun hits us as flower petals fall from a nearby tree, and Hisham is making it clear to me that every detail of this home and its inhabitants embraces the unassuming romance of Brooklyn. He speaks on the move to America, creating with fellow artists in his content house and the synchronized fates that bring him success in a dress.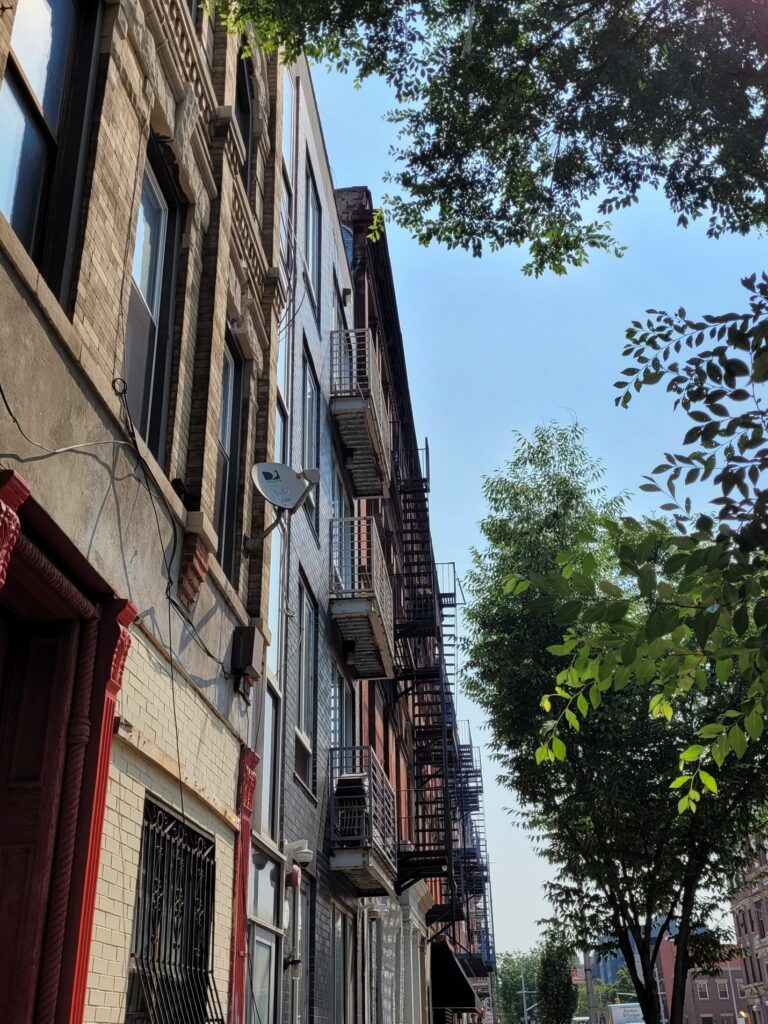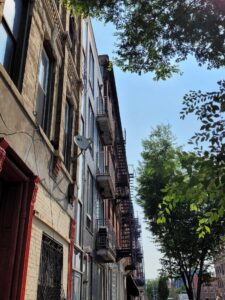 How did you come to be here in New York from Qatar and what were the first steps?
Summer 2014 was beautiful.  I had just graduated with a BFA in Fashion Design from VCU Qatar. New York was the dream because Qatar has no fashion breath of its own. It's impossible to do anything in a place you have no resources for fashion. I had received a mysterious offer from Ralph Rucci in New York to come and intern with them as an assistant designer. After about six months with the company, they started to go under, and I moved with my thirst for knowledge to Kaufman Franco. I was responsible for an Oscars dress there… Then I moved on to Marchesa and did four Oscars dresses there as well as later, I was part of the iconic Cinderella Moment Dress worn by Constance Wu in Crazy Rich Asians, and I was watching it in the theater like, 'wait, what?!' because with so much more recent fashion out, I had no idea that was the dress they picked. When she got out of the car I was just thinking, 'That's me!' Working there, I remember hating it at the time because we were basically a team of nine interns in an archive closet. I hated how much I was pushed to create for so little. But now it's my most valuable work experience. All the while I was living on 116th and 3rd Street in Harlem.
What inspired the change to move from a live/workspace in Harlem to this one in Brooklyn?
After that I got a position at the prominent store B & J Fabrics for two years, right near Times Square. Very valuable learning from working there… I basically felt fabric all day long and learned more tools of my trade. Just as those two years were closing a friend reached out with a work opportunity to do freelance graphic design by day for them, allowing me to have fashion by night. Around that time, I also met Alex, a sculptor who lived in this Brooklyn apartment and had just lost a roommate. I was such a hermit in Manhattan, but I sort of understood that out here I wouldn't need to hermit myself away if I was already given space. It didn't feel quite right to live on my own anymore and I wanted to try living with other creatives, especially someone I got along so well with as a fellow Arab, as a fellow queer person. So, I moved in! It didn't take but nine months to be joined by another queer creative, Charlie – also known as Drag Performer Anya Knees – who had just relocated to New York after eight years in Lebanon! The Dream Team was born. As soon as we found out the folks on the ground floor were leaving, we jumped on it. It has a garden for Anya to perform and host, as well as a basement we could all use for studio space and a crash zone. It just fit, and we had this beautiful relationship based on talented coworking.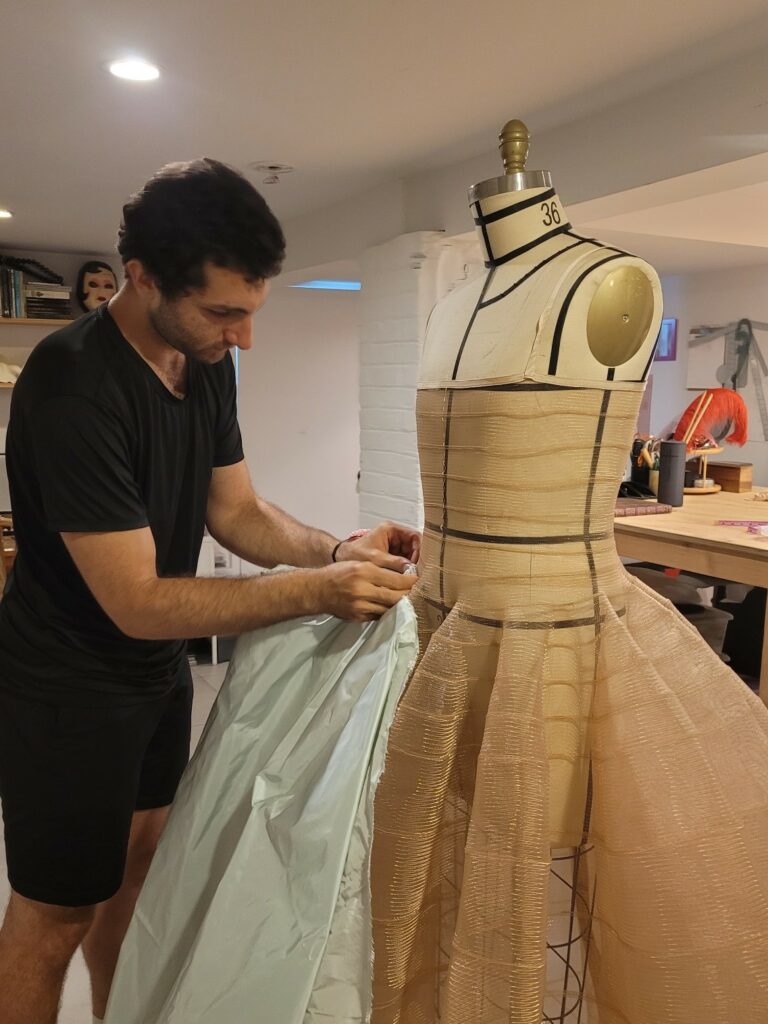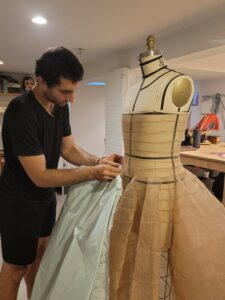 Have any mentors or advisors ever given you career-changing advice.
Well, I was originally told that truly reap the benefits and experience success as a designer, it's going to take at least ten years, which – I mean, crazy right? 'No, I'm totally going to surpass that, give me three years, two even!' So far though, we're beginning year eight and that advice feels about right. As someone who came from a place where there was absolutely no fashion industry and relies on everyone else, it's amazing to see just how much there is out there to know. You do also have to take the time to learn those things and meet specific people that can help you progress, that's not just something people say. I believe what they said now. I'm feeling much wiser – yeah, now give me two more years and I should be exactly where I wanted to be.
"Luck helps, and I've been dealt a fair share… but to maintain what luck gives you, you have to work at it."
I'd say you've certainly been busy learning! What are some of your favorite and most notable accomplishments thus far?
Recently a few pieces I designed ended up being on the most recent season of RuPaul's Drag Race, which is great. It was one of my own special formulas, and it moves like a dream. It was made in the apartment, I don't know how we did it, just getting in fittings by the door and on the rooftop. The hat is probably the thing I'm most proud of. It's entirely horsehair. It was a midnight addition that took an extra two hours that I wasn't even supposed to be using. The episode before the one my dress was featured in, my roommate Charlie made one that was worn by the same racer. So, it was cool to see her wear a Lebanese designer followed by a Palestinian designer like that. In addition to all the awards dresses and Crazy Rich Asians it's been so many great opportunities… Luck helps, and I've been dealt a fair share… but to maintain what luck gives you, you have to work at it."
"If you can't run in it, I don't want to make it!"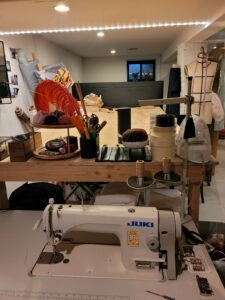 What would you say you've developed?  What's your brand and what does your design entail?
I have walked away from all my work with so many powerful pieces of experience. Marchesa was hell but like I said, it was a constant pressure for me to press and create and think which was very helpful for me later. Loved Ralph, loved couture, loved ready-to-wear. But this Marchesa light, fairytale ballgown thing was what I always wanted to learn, and I walked away from that satisfied. Satiated. It's become my focus and I think I'm more than capable now of starting my own thing, that has not been done before or that at the least is new and has been needed for a while. That's what made the fabric store so helpful too. Before then, I was just sewing fabric, I didn't care what you gave me. I needed to take the time to learn the principles of each; how they move, how to use them, when. I'm wise in what materials I choose and what I select to make out of them in my own creations, now. I once learned a lot about making pieces that ended up on Broadway. Those dresses need to not only be beautiful but durable, to last for months on end of performing. I've adopted that, and I've reached this sweet spot of interest for gowns that you can just kind of slip on a pair of sneakers with and run off in! Honestly! Now it's like… if you can't run in it, I don't want to make it! I'm currently messing with this update on the 1800's hoop skirt with modern simplicity. They are crushable, flexible, and super durable.  You can just fold them up and take them with you traveling. You can classically add a dress or skirt on top, or just slip it over a pair of jeans with a t-shirt and sneakers. I love the look of them.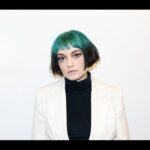 Caroline Zemp is a creative content writer, author, editor and journalist. She lives in Brooklyn, NY with her wife as they frequently eat their way across the five boroughs.