After three months on the market, Biggie Smalls' former Brooklyn home sold last month for $2 million. The "chic artistic haven" closed for $300,000 above asking price, proving to be as in demand as the hip-hop legend's music.
The 1,700 square-foot duplex was Biggie's place of residence when his debut album, Ready to Die, was released. Ironically, it was the first and last studio album he ever put out, having died in an unresolved drive-by shooting in LA at the age of 24. 
The Fort Greene duplex was home to Notorious B.I.G, his wife Faith Evans, and her daughter, Chyna Tahjere Griffin in 1994. Following his untimely death, the apartment made an appearance on the documentary, "Biggie: The Life of Notorious B.I.G."
Located in a diverse and accessible neighborhood, the two-story apartment is now surrounded by eclectic restaurants, bars, and fashion shops. Sitting just blocks away from the street named after the critically-acclaimed rapper, Christopher 'Notorious B.I.G.' Wallace Way, this Brooklyn home is certainly a rare piece of black history and culture in NYC. 
The 2-bed, 2-bath duplex features a uniquely rustic, yet contemporary aesthetic. Back in 2011, the apartment was purchased and gutted by notable costume designer, Caroline Duncan. She's known for her work on "When They See Us," a Netflix crime drama series based on the stories of the Central Park 5. 
Duncan stripped the apartment's interior before rebuilding it to what it is today. It features amenities such as; a custom, cobalt blue library, walk-through closets, and a newly installed chef's kitchen. The two-floor pad also has 12-foot-high ceilings, a wood-burning brick fireplace, and exposed timber beams.
Before moving in, Duncan said that the apartment displayed "a series of puzzling small rooms" and decided to knock down the walls to create an open, lofted space instead. 
She turned what was previously a barren, concrete basement into a framed interior with modern finishes and a massive closet to showcase her collection of clothing and accessories. 
The chef's kitchen benefits from a great deal of natural light throughout the day. It also comes with a Bosch cooktop, two stainless steel ovens, and Carrara and Glassos benchtops. Behind the kitchen is an elaborate, oversized sliding door leading to the library/TV room, where you'll find built-in bookshelves along the wall.
Despite the extensive renovations, Duncan wanted to preserve the essence of the space. "I loved the neighborhood, the proximity to Fort Greene Park, the fact that the building is on the Historic Register and had the bones of a true artist's residence," she says of the apartment.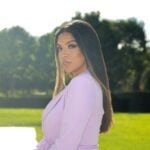 Vivian Tejada is a freelance real estate writer from Providence, RI. She writes SEO blogs for real estate, travel and hospitality companies. She's passionate about the future of work and helping Latin American freelancers achieve time, location, and financial freedom. When she's not writing you can find her at the gym, a family cookout, or at brunch with her girls. Follow her on Linkedin to learn more.