As a Wisconsin-raised vegan, our writer Sophie was almost overwhelmed by the sheer variety of vegan cuisine that was suddenly made available to her when she moved to the city. She's since had time to adjust to the vegan smorgasbord that is NYC and sample some of its offerings, and she's reporting back with an inside scoop on the city's four most vegan-friendly neighborhoods.
Vegan Options in NYC Neighborhoods
View this post on Instagram
Block for block, nowhere else in the city is packed with as dense a concentration of vegan establishments as the East Village. Five of the restaurants included in TimeOut's 2022 report on the best vegan and vegetarian restaurants in NYC are located in the East Village—more than any other neighborhood represented on their list.
The East Village led the charge in NYC's vegan revolution with such restaurants as Caravan of Dreams, which became one of the city's first all-vegan eateries when it opened in 1991. The area has also seen a surge of new vegan restaurants opening in recent years. Avant Garden, one of only four Michelin-endorsed vegan restaurants in NYC, is a high-end restaurant and bar with a carefully-curated wine list. The owners also operate the vegan tapas and wine bar Ladybird just down the street.
John's of 12th Street, an East Village mainstay since 1909, offers a full vegan menu of pizzas, pastas, and entrées. Spicy Moon, a vegan Szechuan restaurant, is another local favorite. The East Village's celebrated "accidentally vegan" Superiority Burger has temporarily closed but will soon be opening in a new and larger location a few blocks north.
The East Village also benefits from being something of a laboratory for the famous vegan chef Matthew Kenney, who has opened several entirely plant-based restaurants on or near 2nd Avenue. Several of Kenney's business ventures were shuttered by the pandemic, but his Italian pasta bar Sestina and trendy pizza joint Double Zero (another Michelin pick) have endured and remain wildly popular.
Few will be surprised to hear that the health-conscious foodie-land of Williamsburg is something of a vegan haven.
View this post on Instagram
When it comes to vegan breakfasting, Williamsburg's options are unbeatable. Little Choc Apothecary offers a scrumptious variety of vegan and gluten-free crepes, bowls, and teas, while Dun-Well Donuts will fill the cruller-shaped hole in your life with its handcrafted plant-based confections. Sophie's personal favorite brunch spot is the charming and surprisingly spacious Terms of Endearment, where she once enjoyed a delicious and modestly-priced cinnamon roll roughly the size of her head. 
View this post on Instagram
If you're looking for lunch and dinner, be sure to check out the ever-popular Champs Diner, a self-described slinger of "vegan junk food" that serves classic diner grub such as cheeseburgers, shakes, and home fries. For an alternate source of comfort food, swing by Modern Love over on Union Avenue and snag one of their famous vegan mac and cheese bowls. Vinnie's Pizzeria, which has been operating in Williamsburg since 1960, offers traditional pizza as well as a colorful menu of thirteen different kinds of vegan pies (including the "Spicey Slicey" and "Tirestorm.") Wild Ginger Pan-Asian Cafe provides a casual setting and bargain prices on delicious entrees such as red curry seitan and jade mushrooms with green kale.
Williamsburg also includes outposts for many of the most popular vegan chains in the city. Jajaja Mexicana, known for its delicious vegan twist on classic Mexican fare, opened their Williamsburg location last fall. The Butcher's Daughter, a plant-based juice bar and "vegetable slaughterhouse," and Loving Hut, an international vegan fast food chain, also have Williamsburg branches. The former "By CHLOE" franchise at 171 North 3rd Street recently reopened as the rebranded Beatnic while retaining its signature guac burger.
Like its neighboring East Village, the Lower East Side has plenty of vegan options to choose from.
View this post on Instagram
The upscale Dirt Candy, one of the most famous vegan eateries in Manhattan, is known for the creative ways it has managed to cram vegetables into its zany dishes. Hand-pulled kale noodles? Buche de mushroom mousse? Black garlic sticky toffee pudding with fennel sour cream sherbet? Yes, please! At Dirt Candy, you'll be presented with a five-course tasting menu, so you'll be able to try it all. 
For another unique dining experience, make your way over to Fat Choy on Broome Street. Branding itself as "kind of Chinese, also vegan," Fat Choy offers a Chinese-infused twist on the American sloppy joe with its celebrated "mushroom sloppy." For your Thai fix, try the lovely little gem known as May Kaidee near Seward Park. Among its delectable salads, soups, and curries, May Kaidee also provides many gluten-free options at bargain prices.
View this post on Instagram

One unique benefit offered by the Lower East Side is the presence of vegan specialty stores. Riverdel Cheese Monger in Essex Market is the city's only all-vegan fromagerie. Selling cut-to-order artisanal cheeses from cheesemongers such as Cheezehound, The Uncreamery, and Yvonne's Vegan Kitchen, Riverdel also sells "NotMeats" like "faux gras" to provide the final touches to your vegan charcuterie board. Orchard Grocer, the city's premiere all-vegan delicatessen, sells an array of vegan sandwiches and treats as well as pantry staples and other groceries. 
Bushwick has slowly but surely unseated Williamsburg as the hipster capital of New York and may soon be gunning to steal its reputation as Brooklyn's vegan hotspot as well.
View this post on Instagram
The playfully-named Seitan's Helper is an entirely vegan sandwich shop that makes it a point of pride not to feature brand-name meat alternatives such as Impossible or Beyond. Instead, Seitan's Helper makes all of its deli meats—from mortadella to spicy turkey—in-house from the finest seitan. The Sexy Devil sandwich with its delicious "seitanic sauce" is a must-try. As a bonus, they have recently partnered with Bunny's Vegan Bakery to sell vegan desserts. 
Bunna Cafe, over near the Williamsburg border, is a colorful plant-based Ethiopian joint known for its prized Bunna coffee. Raw beans are roasted on the premises each week, and the resulting brew is shared with customers in the traditional Ethiopian coffee ceremony. Sol Sips, a vegan Caribbean cafe with a community focus, has made it a priority to make its mouthwatering menu of plant-based fare accessible to all.
The final shoutouts on this list go out to two of Sophie's most-frequented establishments. Brooklyn Whiskers Bakery peddles a delectable array of baked goods and sandwiches in their cozy feline-themed storefront. She recommends buying a handful of delicious donut holes to both get the most bang for your buck and allow yourself to try as many flavors as possible. Last but not least, Sophie—along with throngs of other Bushwick-adjacent vegans—worship on the altar of Norbert's Pizza on nearly a weekly basis. She highly recommends their "Meat" Lover's pizza and their decadently pesto-licious vegan Margherita pizza.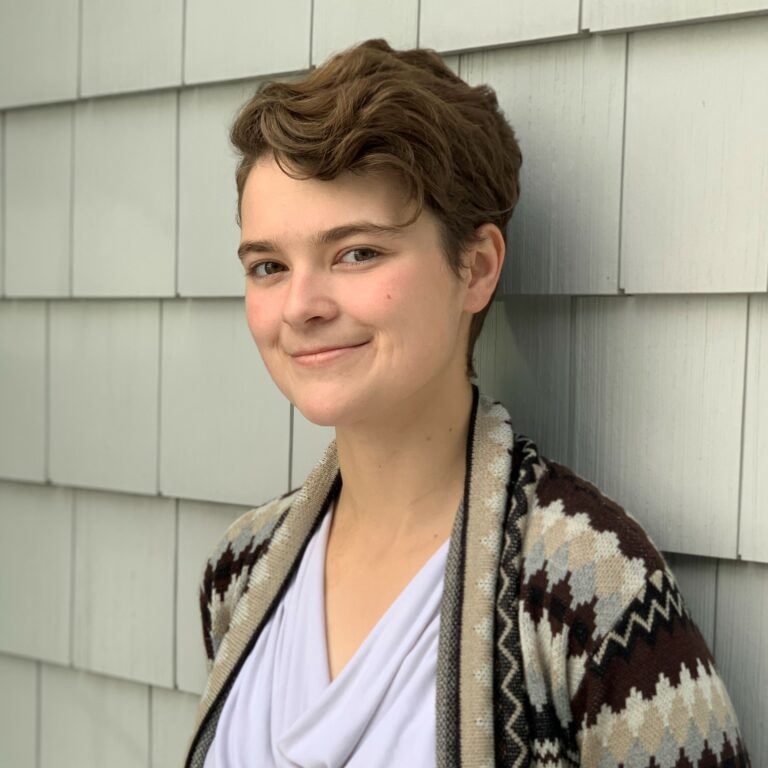 Sophie McIntosh is a Brooklyn-based writer and dramaturg hailing from Sun Prairie, Wisconsin. Her plays have been produced by Imaginarium Theatre Company, Platform Production Company, and in the Boston Theater Marathon. Check out more of her work at sophiemcintoshwrites.com!