New York City is full of eclectic fine dining experiences that are inspired by international traditions. One of those most luxurious examples of this is Omakase, which means "I'll leave it up to you" in Japanese. Traditionally, this is what a restaurant customer in Japan says when they want the chef to decide what the meal will be. That said, the meaning of the word has expanded a bit, especially in the US. The chef still decides what you'll be eating, but the meal is also educational. Omakase places here have customers sit at a counter as the chef prepares individual pieces of sushi. The Chef describes the fish, where it's from, and answers any questions one might have about the cuisine. These experiences are expensive and, in some cases, intensely exclusive. But don't worry, CitySignal is here, and we found the best Omakase in NYC for you to enjoy.
The 18 Best Omakase Sushi Menus in NYC
View this post on Instagram
1.) Sushi Noz ($$$$)
Easily one of the best Omakase experiences in NYC, this Michelin Star Restaurant will serve you one of the best meals you've ever had. Chef Nozomu Abe has designed his restaurant to resemble an ancient Kyoto temple in order to enhance the dining experience for his customers. Guests are seated in one of two rooms depending on their reservation. The Hinoki Counter, which seats 8 people, is made from 200-year-old cedar wood, and the food is stored in a traditional Japanese ice box. The six-seat counter, The Ash Room, features a space made from Tamo Ash, which was originally reserved for royalty. Depending on the night and time, you'll either be served by Nozomu, himself, or his talented sous chef, who will serve you 5-6 small plates, 12-14 courses of seasonal nigiri, and then a final course of miso, tomago, and a dessert.  Tastings occur four times a day Monday through Saturday.
View this post on Instagram
2.) Noz17 ($$$$)
This restaurant offers a powerful meal that, until recently, diners could only experience if they were introduced to chef Nozomu, who owns the establishment, or chef Junichi Matsuzaki, who works the counters there. Matsuzaki was the former sous chef at Sushi Noz, and has since branched out, taking creative control of this establishment and adding some bold new flavors to his 30-course menu. Reservations can now be made online, though the experience is only for seven total diners at a time.
View this post on Instagram
3.) 69 Leonard Street ($$$$)
Also known as Shion, head chef, Shino Uino, was formally trained at one of the top sushi restaurants in Japan. After coming to NYC in 2017, he was soon scouted by restaurant owner Idon Elkon, and given a counter at 69 Leonard Street where his skills could be displayed to a very exclusive clientele. Experiences only happen twice a day, Monday through Saturday at 6 p.m. and 8 p.m. While this menu is fixed depending on the food in season, guests have the option of adding an additional á la carte experience featuring chinmi, which is an assortment of rare food that will guarantee an unforgettable experience. 
View this post on Instagram
4.) Noda ($$$$)
This restaurant is elegance personified, with traditional Japanese art mixed with an exposed brick backdrop. Head chef Shigeyuki Tsunoda is a brilliant mastermind, serving seasonal 20-to 35 course menus to ten guests at every experience. They also serve some of the finest sake and Japanese whiskey around, even adding a bar dedicated solely to different brands of both drinks. Patrons can arrive early, have a drink or two, and then go to the back room, where they will receive an intimate and delicious dining experience. This place is a great way to celebrate special occasions.
View this post on Instagram
5.) Sugarfish ($$$)
A slightly cheaper omakase experience, Sugarfish has brought the experience of counter dining to a larger audience. Patrons here can customize their meals, opting for fewer courses and cheaper prices. Their "Trust Me" lunch menu ranges from $27 up to $72 for the "Don't Think. Just Eat. Trust Me" experience, which includes seasonal sashimi, seven courses of nigiri, and two hand rolls. Their dinner "Trust Me" menus are only slightly more expensive but still under $100. While this meal might not be as extensive as others on this list, the prices here can't be beaten, and the fish here is just as fresh as in any other fine dining establishment in NYC. Even their corkage fee for sake is cheaper at just $25. This is one of the best ways to experience omakase on a budget.
View this post on Instagram
6.) Icca ($$$$)
This traditional Japanese restaurant offers more than just sushi, but their omakase menu is what put them on the map. Sushi chef Kazushige Suzuki runs the counter here, and has trained in fine dining establishments worldwide. He receives seasonal ingredients straight from Toyosu and Kyushu each week. He even gets his beef from the restaurant's farm, so you know all the ingredients are some of the freshest outside of Japan. There's a separate bar that can be enjoyed before, after, or during your meal, and has a wide variety of delectable wine, sake, and whiskey that pair perfectly with the omakase menu being served that evening. Even the glassware is designed to enhance the experience, and bring out the aromas and flavors of the food and drinks you'll enjoy.
View this post on Instagram
7.) Omakase Room by Mitsu ($$$$)
This phenomenal restaurant in the West Village features head chef Mitsunori Isoda, who has over three decades of experience in the fine dining sushi world. His works have been celebrated throughout the world, and he even earned his former restaurant, Jewel Bako, a Michelin Star. Now, he is dazzling diners at Omakase Room with a 12-course meal. Isoda begins each meal by simply talking to his guests to get a sense of their palate. This will decide the direction of the experience and form a bond between the patron and the chef. He then gives everyone a hand roll to start the evening, explaining his techniques and ingredients, as well as their significance to the sushi tradition. He pairs his food with signature wines and sake, thus enhancing an already incredible experience.
View this post on Instagram
8.) Shuko ($$$$)
A restaurant perfect for private events and occasions, Shuko is a calm, intimate space that will fill you with flavors you've never experienced. Owned and operated by chefs Nick Kim and Jimmy Lau, these artists have perfected the craft of omakase, as well as the beverage pairings that can be added to it. The evening starts with appetizers of sunomono, caviar, and sashimi. Then the omakase experience begins with seasonable bites that are hand-picked by the chefs based on freshness and the atmosphere they feel. They also include extra dishes that can be added to your meal for an extra fee. One of these additions includes a caviar hand roll that's out of this world. If you are celebrating a special occasion, they even allow you to bring your own cake for a small fee.
View this post on Instagram
9.) Momoya ($$)
Another sushi restaurant that won't break the bank, Momoya has two locations, one on the Upper West Side and one in Chelsea. Although this place is a casual sushi eatery, they do include a chef's choice menu at their sushi bar that you and a guest can enjoy. These tastings range from $70 to $75 dollars and include 12 to 18 courses of the chef's choice sushi. These meals are always delicious and perfect for those who love the flavors of an omakase experience without all the fanfare. 
View this post on Instagram
10.) Ito ($$$$)
Head chefs Masa Ito and Kevin Kim have collaborated on this omakase specific masterpiece. Masa Ito has a Michelin Star under his belt, and you can taste his talent in every morsel he hands you. The pair like to experiment with traditional Japanese flavors, adding little touches that give their food a kick. They curate their menu based on the seasonality of ingredients, as well as said ingredients' freshness. The menu includes a drink and nearly twenty courses of otsumami, nigiri, and desserts. They have two dining rooms, one with 14 seats, and a more intimate 8-seat room for guests who want a private evening, so this destination is perfect for any occasion, be it a date night or a birthday.
View this post on Instagram
11.) Sushi Yasuda ($$$$)
One of the oldest omakase counters in the city, Sushi Yasuda is refined, flavorful, and varied. One can sit at a table for an á la carte experience or sit at the sushi bar for the chef's choice, a seasonal experience that can be anywhere from 10-20 courses, depending on the ingredients available. This is one of the few sushi places that allows you to get the omakase menu via takeout, which is perfect for those who want to experience the flavors but might be a bit shy when it comes to sitting at a counter talking to strangers.
View this post on Instagram
12.) Sushi Amane ($$$$)
Since 2017, this restaurant has been dishing out delicious omakase menus that have left guests in awe. From 2018-2021, this restaurant earned an annual Michelin Star and head chef, Tomoyuki Hayashi, is on track for another one in 2022. He only uses fresh fish that is delivered to his restaurant each morning, and serves them at varying temperatures to enhance the flavors of his dishes, whereas most sushi is served at room temperature. His meals include four small plates, nine courses of nigiri, a hand roll, and miso soup. Guests can also bring a bottle of sake or wine to compliment the meal for $80. The menu changes daily, so you'll definitely be making this a regular spot just to see what creations chef Hayashi has come up with.
View this post on Instagram
13.) Sushi Ginza Onodera ($$$$)
This refined restaurant serves delicious delicacies that have been delivered from the freshest markets of Tokyo and Niigata. Head chef Takuya Kubo, creates special dishes every week based on seasonal flavors, cultivating menus that are unique and flavorful. This Michelin Star restaurant serves three omakase experiences depending on how much food you want and the rarity of the food. The cheapest at $130, comes with an appetizer, 10 pieces of nigiri, miso soup, and a dessert. The next level is $180 and comes with an appetizer, 12 pieces of nigiri, a Negitoro roll, miso soup, and a dessert. The most expensive tier is $250 and comes with four appetizers, eight pieces of nigiri, miso soup, and dessert. Additions are also welcome, and they have sake pairings upon request.
View this post on Instagram
14.) Mama Sushi ($$)
This sushi place is hip, featuring a menu of both food and drinks that are perfect for a casual night out. They also have two omakase options, a light one that features five courses, and a regular one with seven. These menus don't always guarantee the entire omakase experience of interacting with a chef, but they do offer fresh, hand-picked choices from the restaurant that are sure to delight you. If you're seeking a casual dining experience in Harlem, Mama Sushi is a good, affordable option.
View this post on Instagram
15.) Masa ($$$$)
An amazing restaurant from head chef Masayoshi Takayama, this place is elegant yet fun, offering an omakase experience you'll remember for the rest of your life. Guests are seated at a table made from a Japanese Cypress tree called Hinoki. They are then ready to begin the experience, surrounded by plants and decorations that are as seasonal as the food is served. Each bite during this meal is distinct, making your taste buds dance with delight as each course throws a new surprise at you. There are plenty of drinks that pair well with each meal, and the chefs will be more than happy to recommend one to you and your party.
View this post on Instagram
16.) Takeda ($$$)
An intimate space that opened in 2019, Takeda is run by head chef Yukihiro Takeda, a master chef with over three decades of culinary experience. His appetizers and sushi are imaginative, featuring new twists on old favorites with a menu that changes daily. All of his food is airlifted from Japan to ensure the freshness of ingredients, and their drink menu will pair perfectly with any dishes the chef has prepared. Additionally, Takeda's serving style is a bit non-linear compared to other omakase restaurants, serving appetizers and special creations in between the nigiri courses. These small details are what make this experience truly unique.
View this post on Instagram
17.) Yoshino ($$$$)
This eccentric restaurant has a story to tell, which is why they feature a short documentary about their head chef, Tadashi Yoshida, on their website. The same website invites guests to enjoy the four pillars of Japanese cuisine, which are seasonality, beauty, balance, and comfort. This philosophy is taken very seriously, which is why this ever-changing menu is as satisfying as can be. Additionally, the attention to detail in the décor is astounding, with each and every aspect of the place designed by a Japanese master craftsman.
View this post on Instagram
18.) Nakaji ($$$$)
An elegant space that warms your soul, Nakaji's omakase menu is headed by lead chef Kunihide Nakajima. This omakase place isn't just a restaurant, but also a bar that features the best Japanese whiskey and sake around. The experience itself includes a 14-course seasonal sushi meal along with a selection of appetizers. The experience emphasizes comfort, though they do ask that guests refrain from wearing shorts, hats, or sandals during the chef counter experience. Other than that, wear whatever you'd like.
Omakase Etiquette
Omakase is often a casual experience, even though it's an expensive one. That said, there are some things you can do as a sign of respect to your chef and their establishment:
First and foremost, show up early. These meals can take two and a half hours to enjoy, and the restaurants often have guests arriving directly after your meal is complete. This is why showing up ten minutes early to your experience is good practice. Not only is being punctual a sign of respect, but many of these establishments will refuse to seat you if you show up fifteen minutes late for your reservation.
Additionally, eat the sushi the way the chef advises, which is usually to eat it right as it lands on your plate, with your hands. To that end, don't dull the chef's wasabi with soy sauce, as many chefs will take that as an insult. To show your chef the respect they are due, trust their processes, their ingredients, and even offer them some sake or wine if you have any. Remember to tip well, especially if gratuity isn't automatically included in your bill.
Omakase is a traditional Japanese meal that is beloved by people worldwide. Some of the best sushi chefs on Earth have found themselves in New York City, and have opened their hearts and creative minds so that you might have an unforgettable culinary experience. Even if you're not a fan of sushi, these meals are experiences that shouldn't be missed, and might even change your taste buds for the better. The prices might be a little high, but it is absolutely worth it for the experience you'll be getting. So, if you're hungry for sushi and adventure, try an omakase counter. You'll be dazzled and well fed.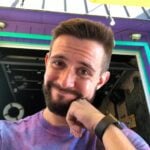 Russell is a writer and comic based in New York City. His plays have been featured at Penn State's Cultural Conversation's Festival, The NYC Thespis Festival, and Imaginarium's Inaugural Theater Festival. Follow him on TikTok and Instagram @pooleparty528