Easter is here and Spring is in full swing. This means that brunch will become the most important meal of the weekend in New York City, and you should start it off right. Easter brunches, especially, can be a wonderful, classy affair for the whole family. But with so many restaurants, it's hard to pick a place to go. Well never fear, CitySignal is here, and we prepared a great list of options for your dining adventure. So make a reservation and grab a loved one, so you can celebrate Easter and the sunny days that come after it.
Best Easter Brunch NYC
A French Bistro in downtown Manhattan, Laduree SoHo has an Easter menu all weekend starting on the 15th and ending on the 17th. This meal offers a variety of drinks, scrambled eggs with avocado and turkey/salmon, and fruit skewers to be dipped in chocolate. Even better, the entire meal happens in the quiet and serene secret garden, just as the trees are blooming. It's a colorful meal that deserves your Sunday best as you enjoy the elegance and warmth of the afternoon.
Hailed as one of the best new Mexican restaurants in the city, Aldama is bringing its delicious cuisine to the realm of Brooklyn brunch. Chef Gerardo Alcaraz, who studied in a Spanish three Michelin Starred restaurant, is going all out for Easter Sunday, offering chilaquiles, encacahuatadas, and espresso martinis just to name a few things. In fact, the drinks here have a flair that isn't found in every restaurant. From fruity to hearty, you'll be feeling a happy buzz that will carry you straight into Monday and through the rest of Spring. Now doesn't that sound like a great way to spend a holiday?
This French restaurant is located on the Upper East Side and has a special, prix fixe Easter Brunch. The two-course meal has been conceived by award-winning chef, Antoine Camin, and features multiple options such as french toast or a shrimp and lobster roll. A signature drink, La Belle Vie, is also offered. The cocktail is an amazing mix of Campari, Grand Marnier, and champagne. With food and drinks that are bright and colorful, this classy meal is a great way to celebrate the season.
A Southern Italian gem in Midtown, Casa Limone has a special three-course, prix fixe Easter menu straight from the Michelin Starred head chef, Antonio Salvatore. You'll start with a nice appetizer before moving on to the main course, perhaps branzino alla grille or a casa limone burger, and then end the meal with a rich dessert like tiramisu. A variety of refreshing drinks will also be available. Make sure you plan ahead so you don't miss out.
Though this is a dinner menu, we simply had to include La Mercerie because their menu is elegant, light, and simply delicious. Found in lower Manhattan, head chef Marie-Aude Rose brings her experience from her childhood, and the Michelin Star restaurants she cooked for in Europe, to celebrate Easter with a three-course prix fixe menu. The first course of either deviled eggs or asparagus, the second course of lamb shoulder or spring vegetables, and the final course of strawberry tartlets, will send you into a heavenly place as your sip on a nice glass of wine or a signature cocktail. This is a glorious way to end your Easter celebration.
Perfect for either brunch or dinner, the prix fixe menu at Portale blows you away. They have two options for families: the kids' menu for $45, and an adult menu for $85. Either way, the food will be delicious. Look forward to options like zuppa, burrata, risotto, and much more. Some options, like french toast and lobster eggs benedict, will only be available until 2:30 PM. Everything else, including the drinks, will be available until 7:00 PM.
The oldest bar in Brooklyn is taking a family-friendly approach to Easter. From 11 AM to 4 PM, they are offering an Easter Egg Hunt for the kids. For the adults, there's a three-course prix fixe brunch that's a delight to the senses. Eggs aren't the only things available in baskets, as an assorted pastry basket and cornbread with smoked bacon basket are some of the options on this menu. They also have a special Easter donut made just next door from the tavern. Drinks are a must here as well in order to complete the package.
An upscale, two Michelin Star, Nordic restaurant in Midtown, Aquavit has a stunning three-course prix fixe menu that will tickle your senses and brighten your Easter. With options like three types of herrings, slow poached halibut, and their signature princess cake, your taste buds will dance with every bite. Specialty cocktails will solidify the event as the best part of your holiday.
It might be another three-course, prix fixe menu, but the holiday is about doing something special and going the extra mile. That's exactly what Atlantic Grill does with their Easter Brunch menu. With wonderful seafood options like salpicon de octopus, lobster thermidor, and salmon bearnaise, this eclectic menu will bring a smile to your family's face. Refreshing desserts like carrot cake and the coconut lemon easter egg complete the meal. They even give you a complimentary mimosa to celebrate the holiday.
---
Easter and Spring are times of renewal, and these restaurants showcase that with the artistry of their food. These menus are designed by some of the world's best chefs to bring the sensations of Spring to your palate. To experience these places and cuisines is to experience Easter like you never have before. It's a chance to make your holiday an unforgettable one, and show your friends and family a good time. So be sure to call ahead and make a reservation. These places fill up fast and you don't want to miss out on the greatest Easter Brunch you've ever had.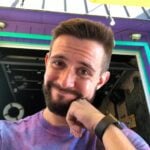 Russell is a writer and comic based in New York City. His plays have been featured at Penn State's Cultural Conversation's Festival, The NYC Thespis Festival, and Imaginarium's Inaugural Theater Festival. Follow him on TikTok and Instagram @pooleparty528