Industry City, an industrial complex of 16 buildings that sits along the scenic waterfront of Sunset Park in Brooklyn, is not your average real estate development.
The former shipping hub of warehouses and distribution centers is now a gem in the rough. Its sprawling campus houses workspaces for creatives, entrepreneurs, eateries, retailers, makers, and entertainers.
It's not uncommon to find visitors looking around in wonderment at the cleverly designed retail spaces and beautifully landscaped courtyards that beg you to sit for a bite or sip a beer. Or perhaps you can catch a screening of a classic movie hosted by Rooftop Films, with breathtaking sunsets as a backdrop.
Jamestown Realty is the brainchild that developed this magical complex for both the tenant and visitor. And they have no interest in a cut-and-dry relationship with their tenants.
As a former tenant of Industry City, I experienced first-hand the collaborative relationship between landlord and tenant that is unique to the IC brand. Jim Somoza, Industry City Director of Development and Partner, provided a behind-the-scenes look at how his team remains focused on building a special culture and destination spot on Brooklyn's waterfront.
Let's start with the term your team refers to the complex as — the "campus."

We've called it a "campus" from the start. When we took this project over, the area was 100 million square feet of vacant buildings of former warehouses used for distribution.
We knew we had to create a ground-floor community for the people who would come to work. It is an office project. When I say "office maker space" — artists, and designers and things like that — it's not the traditional office as you would think of in Manhattan.
We aren't exactly on Main and Main, and we were challenged to entice businesses to bring their offices here. So what you have to do first is make a place. You have to make something on the ground floor, give them places to eat, and drink, shop, play, relax, and entertain.
So, how do we do it? We don't just put together a group of tenants. We're not just trying to sign leases. Of course, we have to sign leases, and of course, we have to get rent. But we're not taking anybody that comes in the door, because they have to buy into what it is we're doing. They have to want to be a part of the community we are building on the "campus."
We have a marketing department that works tirelessly to drive foot traffic to the retailers. And we hold monthly meetings with the retailers for all to share concerns and ideas on how to cross-market and work together to help each other.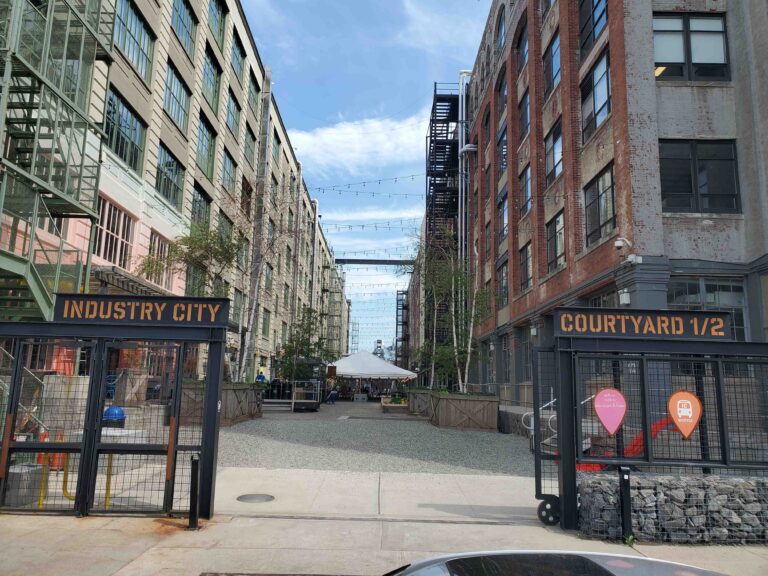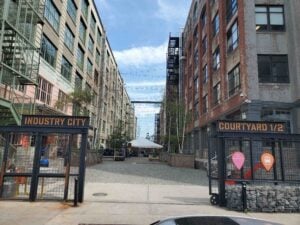 As a former tenant, I know the benefits of having access to your marketing department. I've never heard of a landlord that supports and works with its tenants the way Industry City does.
Part of the criteria for renting space from us is the willingness to want to work together as a team and collaborate for the good of the campus. It creates bonds, and strength as a whole, and that translates across the table to the customer. So this is what we do. And what we enjoy doing. It just so happens to work well.
There is a sense of "togetherness" whether you are a tenant or a visitor.
This culture we've carefully curated and created on the ground floor is what gets you the tenants for upstairs. A company looking to locate their offices needs to know their employees are willing to travel to this far-flung place.
And then it attracts like-minded office tenants, which adds to it, and they start patronizing the people downstairs, and they get to know them and it just keeps going. It was very much the plan from the beginning because that's how you create a community like ours.
I know you did a similar concept in Atlanta called Ponce City Market that is very successful. Is this the Industry City brand model? And are you duplicating this elsewhere?
Chelsea Marketplace was the first location we tried this concept. The thought was, could we do something like Chelsea Market at Industry City, but just on a much larger scale? But, it's not about replicating a model as much as it is doing what we love to do even though it's difficult to accomplish.
We like to take old buildings and repurpose them. Essentially, it's called adaptive reuse development.
We don't aim for a Disneyland look where everything is polished. We like 'rough around the edges.'
There is a certain look and feel to Industry City. The storefronts look curated. What is the thought process there?
The first thing we do is spend a lot of time getting to know the people that want to come here as a retailer. I personally spend a lot of time with each one to make sure that they are the right fit for us, that they get what we do and like what we do. They want to give back to what we do, not just take from what we do. And that's really important. We turn a lot of people away.
We try to bring businesses that are unique and different from what others are doing. Otherwise, if we brought in chain stores or did the things everyone else does, there'd be no reason for people to come all the way out here.
I like to say we're in the transportation business, we want to take you somewhere, not physically, but transport you somewhere. And so we design and curate things in a way that will take you away somewhere.
For example, when you visit the Frying Pan restaurant, you're in a seaside fishing village, or if you go into Bangkok Bar, you're in Bangkok, you go into Japan Village, you're in Japan, we have a blacksmith you can watch, or a fire-pit, and you're in the Middle East, we have a little speakeasy bar behind Burger Joint, and that's where we take you by not even having to leave Brooklyn.
We don't aim for a Disneyland look where everything is polished. We like 'rough around the edges' too. We don't want a perfect look.
Initially, you were looking for storefronts to be a window into a maker space — a showcase of how a business makes its product. Everyone loves to see how things are made. Is that still the case?
It's very hard to do pure retail when you start a project like this because you don't have the foot traffic to support it. But, you need the amenities to attract tenants upstairs in the offices.
So what you do is you go to wholesalers and convince them to bring their production here with a retail space in front to sell their product too.
Now Saskia, a jewelry maker in Guild can also sell you a bracelet, the person making the chocolate, at Li-lac Chocolates can sell you chocolate, or the distilleries can sell you a beer. As things evolve, and you lease the floors upstairs, then you get more critical mass, and those people start patronizing the retailers. And that's how you get something like this started.
Do you consider chain stores since you have 100 million square feet of retail space to fill?
It's important that we maintain the integrity of our curation and atmosphere. That's what people want from us. If we started bringing in chains, it would hurt us. We do have some national retailers because we have so much space, but we just put it in the right place. We do it in a very thoughtful planned-out way so that it doesn't trample on our curated tenants.
Where did you get the inspiration for the Industry City business model? How did it start?
How did we all learn? Various ways. You could say it started with Erwin Cohen who started Chelsea Market in the mid-1990s. The first one of that type that I'm aware of. And Michael Phillips, who is the president of Jamestown, was doing that as well in Atlanta with Ponce City Market. There are other inspirations along the way, but those would be two that I would point out as why we are where we are now, and then we're all into it and love it.
We're always looking at things for inspiration and borrowing and changing and adding on and doing all that.
So far, you have developed seven of the 16 buildings you own. What is the future vision as Industry City expands to the remaining buildings along the waterfront?
Right now, those buildings are filled with warehouse distribution centers like the Last Mile quick grocery delivery service. At some point, those buildings will start to transition over to a curated retail space.
These buildings were shipping containers before the advent of shipping containers. This was a seaport where the goods would come off the boats in pieces, in barrels, and boxes, and bags and transported onto train cars that would pull into the courtyard and unload into the buildings. The courtyards used to be railroad yards. Once shipping containers appeared the need for buildings like this disappeared. These buildings were underutilized for 50 plus years before we stepped in.
Now that marijuana is legalized in New York, are you thinking of bringing dispensaries in here?

We are entertaining the thought of adding dispensaries to our mix, but my job is also to make sure that this place is accessible to everyone. We have, we have all kinds of demographics that come here. We have young kids to older people, we have a much broader demographic than people realize.
I'm a little concerned that our courtyards will attract smokes because it a place people like to hang out. Right? We have families, not everybody wants that. Just like not everybody really wants somebody smoking a cigarette next to them, frankly. My fear is that if we put a dispensary here, we've just said Greenlight. The courtyards appear to be cannabis-consuming territory, and that's going to turn off a lot of people. And that people won't come back if that happens.
And don't forget we have office tenants upstairs. Business owners don't necessarily want their employees smoking on their lunch break. You have to think about all of these things. It's about protecting what we're doing here and keeping that going and not damaging it.
What would you say to tourists and New Yorkers to entice them to visit Industry City?
I would say you can come here and make a day of it to see a large cross-section of New York. That's part of what we are trying to do — curate New York's treasures, old and new.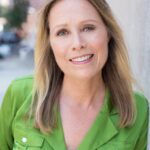 Pam Chmiel is an entrepreneur, marketer, and writer. She is a monthly contributor to Green Entrepreneur Magazine.