Battery Park City Basics
Welcome to Battery Park City, the planned community where elite Manhattanites rest their weary heads. When people think of Battery Park City, they think of a new neighborhood with large lavish buildings. This thought is very correct, though the area has seen its fair share of ups and downs. However, the people here have nothing but good things to say.
History of Battery Park City
The idea of Battery Park City came from a 1966 compromise between then-Governor Nelson Rockefeller and private enterprises charged with the Lower Manhattan Expansion Project. Plans for the neighborhood were unveiled in 1969, and construction began soon after. The city created a new peninsula out of debris from the World Trade Center construction and other lower Manhattan buildings. Once the area was finished, the first residential building began construction in 1980, and by the mid-90s, the area was a popular place to live.
After 9/11, people who lived in the area were displaced due to the neighborhood's status as an active crime scene, as well as the toxic gasses that were still circulating in the air. Once residents were allowed back, further development only revitalized the area, and now it's an extremely popular neighborhood.
Where to Shop in Battery Park City
View this post on Instagram
Being a planned community, Battery Park City doesn't have a ton of specialty stores. However, they do have one spot that's popular with locals and tourists alike:
Brookfield Place
This large shopping mall has shopping opportunities from many famous brands like Madewell, J. Crew, and Gucci. They also have a wide array of activities to enjoy including restaurants, seasonal sports and games, and live music and entertainment. There's something for everyone at this shopping center.
Museums of Battery Park City
View this post on Instagram
This neighborhood has a lot of attractions, including a good amount of museums. Some of the most famous include:
The Skyscraper Museum
This place celebrates architectural marvels and the history of the skyscraper. Heavily featuring NYC architecture, there are both rotating and permanent exhibits showcased here.
The Museum of Jewish Heritage
This living Holocaust memorial "enables Holocaust survivors to speak through recorded testimony and draws on rich collections to illuminate Jewish history and experience." There is also an attached amphitheater that hosts lectures and live performances.
Where to Eat in Battery Park City
View this post on Instagram
Battery Park City might be a new neighborhood, but they've made a name for themselves in the culinary world. Some of the best restaurants in the area include:
Blue Smoke ($$)
This BBQ restaurant specializes in wings and whiskeys. Their happy hour prices are some of the best in the neighborhood, and their brunch is out of this world.
Liberty Bistro ($$$)
This French restaurant is one of the most elegant restaurants in the neighborhood. Some of their best dishes include raw oysters, steak tartare, and French onion soup.
Mezze on the River ($$$)
This Mediterranean restaurant is known for their raw bar and seafood tower. They also have a large amount of kebabs, desserts, and delectable meat entrees.
Picasso Pizzeria ($$)
This pizza joint has some of the best pies in the city. They also have a ton of lasagna, calzones, and chicken wings.
L'Appart ($$$$)
This Michelin Star restaurant is one of the best establishments in Manhattan. This place features a rotating menu of dishes based on seasonality, but they always have incredible dishes and an extensive wine list.
Where to Live in Battery Park City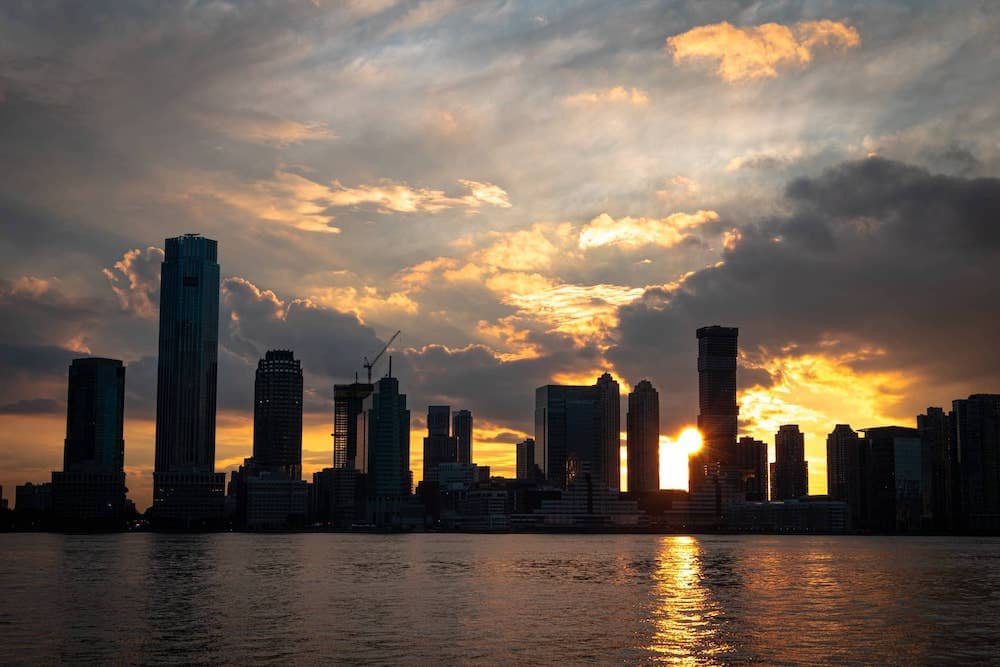 Battery Park City is a popular residential neighborhood, with many beautiful complexes loaded with modern amenities. Some of the best homes here include:
Liberty View
This beautiful condo was one of the first completed apartment complexes in the neighborhood. Most homes feature private outdoor spaces like patios or balconies, as well as expansive views of the Harbor and Statue of Liberty.
Tribeca Pointe
This rental complex is right on the waterfront, offering a great view of Manhattan, New Jersey, and the Hudson River. This building contains a fitness center and a children's playroom.
The Solaire
This luxury co-op has a ton of amenities including a fitness center, children's playroom, a media room, a rooftop deck, and a garden amongst other features. This is a green building.
Gateway Plaza
This rental complex has six buildings, all of which provide residents with a luxury living experience. They have an outdoor swimming pool, a health club, and a ton of security guards for your protection.
Hudson Tower
This luxury condo building has great views and large homes. Large windows allow tons of natural light to brighten up your home, and the stainless steel kitchen appliances will make you feel like a professional chef.
Parks of Battery Park City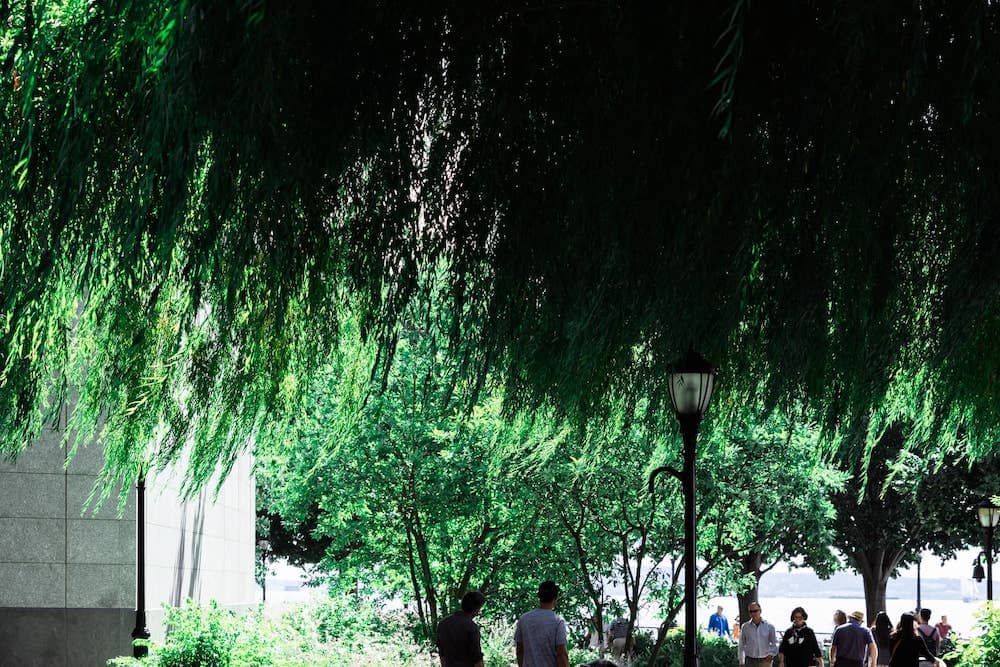 Battery Park City has some large green spaces. These spaces include:
Rockefeller Park
The largest park in the neighborhood, this place has a ton of walking paths, art installations, and the Liberty Landing Ferry.
Robert F. Wagner Jr. Park
This park includes the Museum of Jewish Heritage, an amphitheater, and Gigino at Wagner Park, an Italian restaurant featuring gorgeous water views.
Traveling in Battery Park City
This is a small neighborhood, so travel here is pretty simple. Some options include:
Trains
While there are no subway lines in the neighborhood proper, the 1, 2, 3, R, and W trains will land you pretty close.
Buses
Buses will take you all over Battery Park City including the M20 and M22.
Ride Shares and Bike Rentals
The streets of Battery Park City are a bit difficult to traverse, so driving isn't the most popular option here. However, there are plenty of Citi Bike docking stations for your convenience.
---
Battery Park City is a new neighborhood with a lot to offer visitors and residents. This place is special, not just because of the way it was built or how it persevered, but because of the people who live here and advocate for the area. This place is extremely popular, and it's only going to keep growing as time moves forward. This neighborhood is definitely worth checking out.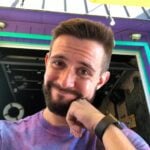 Russell is a writer and comic based in New York City. His plays have been featured at Penn State's Cultural Conversation's Festival, The NYC Thespis Festival, and Imaginarium's Inaugural Theater Festival. Follow him on TikTok and Instagram @pooleparty528