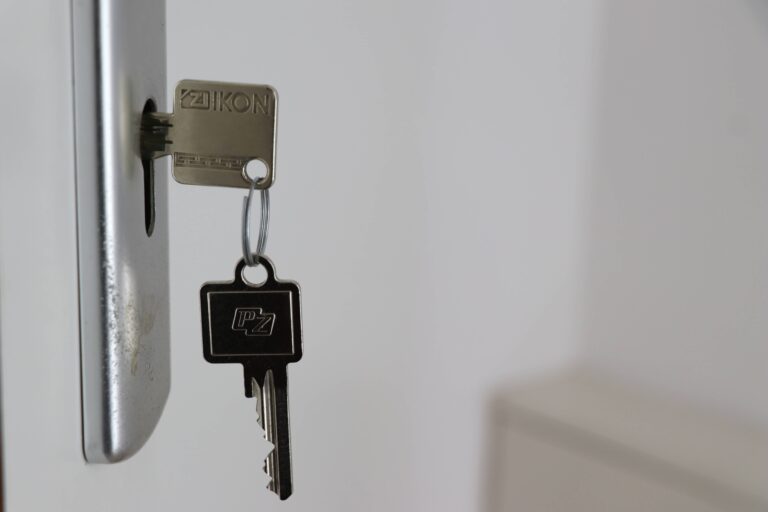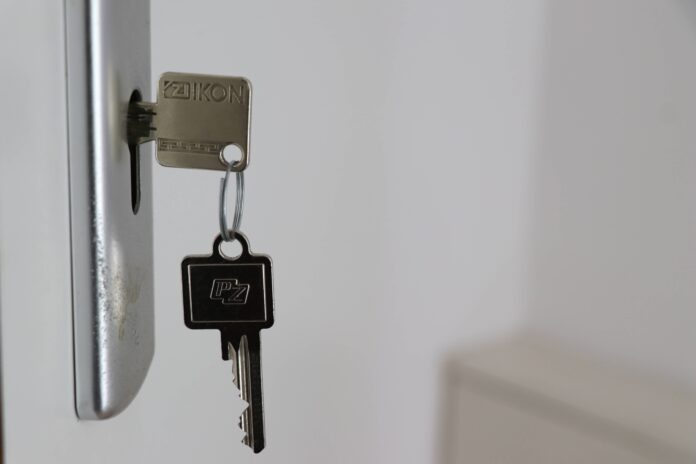 The Federal Investigation into Realtor Commissions
Home prices rose to new highs during the pandemic. As prices skyrocketed, increasing scrutiny into realtor commissions followed suit. CitySignal previously reported on the 2021 Department of Justice (DOJ) investigation into realtor commissions and fees in the United States. There was a similar federal investigation into broker commissions in Canada shortly after the American investigation commenced.
The DOJ investigation alleged that brokerages and realtor associations made commission rates less competitive through price-fixing. As an example, realtors often steered buyers away from homes listed with low commissions by falsely claiming that the property is overpriced, that the seller won't negotiate on the sales price, or other potentially fraudulent claims. The federal investigation could potentially lead to an effective net reduction in commission structures. A new report details how this could become a reality.
NYC Realtor Commissions are "an Anomaly"
Real estate commissions for buyer agents are three times higher in Manhattan than in southern and eastern Brooklyn, according to new reporting from the Consumer Federation of America (CFA), a consumer watchdog group. The report "Diverse Real Estate Commissions: The New York City Residential Brokerage Anomaly", points out some peculiarities in the way New York establishes real estate commission rates.
The main goal of the report was to investigate why the Brooklyn MLS, which operates in Southern and Eastern Brooklyn, could operate with a median 3% realtor commission fee and turn a profit. In fact, buyer agents who operate in the Brooklyn MLS only receive a median of 1% commission.
The report's author, Stephen Brobeck, refers to the NYC realtor commission structure, and especially the Brooklyn MLS, as an anomaly since nationwide realtor commissions consistently average 5-6% nationally. He reviewed 6 service areas in the NYC area, all with different commission rates. The table below represents the average commission rate for buyer agents in the six listing areas the report analyzed.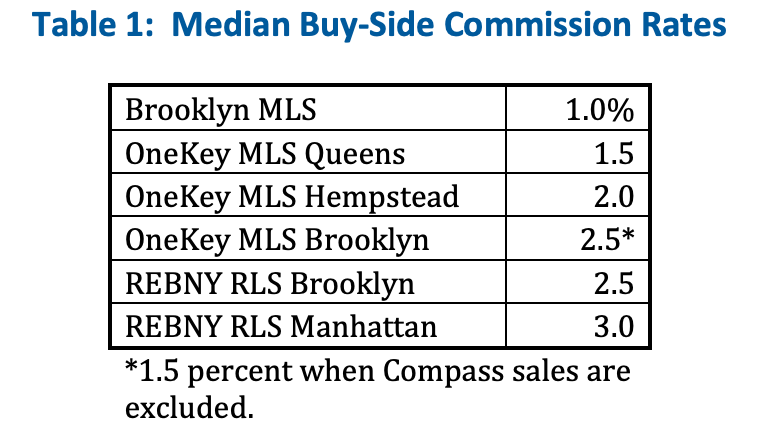 Instead of having one uniform MLS, there are three main listing services in the New York City area, each with its own rules and mandates regarding commission rates. The report notes the significance of this phenomenon, as each listing service experiments with different commission and service structures. The three main listing services, along with their commission structures and rules, are the following:
The RLS (Residential Listing Service), formed by the Real Estate Board of New York (REBNY), operates in and commands the vast majority of home sales in Manhattan and the wealthy brownstone areas of Brooklyn closest to Manhattan, with possible plans to expand into other areas of Brooklyn. Commissions for homes sold through the RLS have 5-6% commission rates, with a requirement that half of commissions go to the buyer agent.
The OneKey MLS is affiliated with NAR and dominates sales in all areas outside Manhattan and Brooklyn. It doesn't require buyer agent compensation to be the same as the listing agent's commission, but it does conform to the NAR rule that buyer brokers receive an offer of compensation. If the buyer agent doesn't receive compensation, the seller's agent can't submit a listing.
The Brooklyn MLS operates predominantly in southern and eastern Brooklyn, and succeeded from the MLS associated with the National Association of Realtors (NAR) to establish their own rules and regulations. The Brooklyn MLS does not require brokers to offer commissions to buyer brokers. Median commissions are 3%, while buyer agents get 1%.
Main Conclusions of the Report
The Consumer Federation of America's (CFA) 20-page report on commission rates in the NYC area isn't exactly the most exciting read. However, anyone who wants to sell or buy a home nationwide should pay attention to the conclusions of the report.
The Brooklyn MLS is an anomaly, as listings sold through the service average a median 3% commission, compared to the national median of 5-6%. The report's author Stephen Brobeck concluded that the Brooklyn MLS proves that realtors can charge a lower commission rate than the typical 5-6% and still make a profit. Most importantly, the Brooklyn MLS is able to charge low commission rates partially because buyer broker commissions aren't required and are typically low when included.
The Brooklyn MLS operates in areas of Brooklyn that have some of the lowest home prices in NYC, yet agents there can still turn a profit. Home prices in New York City are high but are the lowest in areas with the lowest commission rates.
Brobeck also concluded that "the presence of just one MLS with low commissions in an area can drive down rates in other MLSs operating in the same or nearby areas."
"The New York City residential real estate market shows that some rate competition among brokers and agents is possible," Brobeck added.
In the report, Brobeck advocated that a commission structure similar to the Brooklyn MLS be copied on a national level and even called for a complete ban on buyer broker commissions.
"The NYC market shows that when listing agents are not required to offer non-negotiable commissions to buyer agents, rates decline," Brobeck said. "However, when these commissions are required, and listing agents must provide equal compensation to buyer agents, rates remain high."
"Uncoupling rates would likely stimulate not only greater rate competition, but also needed experimentation with different rate and service models," Brobeck concluded.
In short, banning buyer broker commissions would reduce commission rates. Dr. Panle Jia Barwick, a professor in the department of economics at Cornell, came to a similar conclusion.
According to Dr. Barwick's research, if buyer broker commission rules were eliminated, services would become more competitively priced since buyers would have to pay their agent's commission fee. They could negotiate the rate, or even elect to go without a buyer's agent if desired. Sellers would also have the power to negotiate rates with their listing agent. Other countries like Australia and the U.K. have similar rules in place. The change could reduce typical commission rates by one to two percent over a couple of years, according to Dr. Barwick.
Can Home Sellers Negotiate a Lower Commission Rate?
CFA encouraged NYC consumers, especially those who list their property under REBNY, to attempt to negotiate lower commission rates.
"In most instances, those selling homes in Manhattan are being ripped off by high commission rates," Brobeck said in the report. "On the sale of a $1 million condo, agents rarely deserve $60,000 in compensation, the price of two new economy cars or one expensive one."
Unfortunately, consumers have very little power to negotiate lower commission rates unless they have a highly sought-after property. However, it's possible that realtor commission structures could change in the future, and allow consumers greater negotiating power in the process.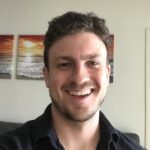 Tyler graduated from Virginia Commonwealth University in 2017 with a Bachelor's degree in Urban and Regional Studies. Currently based in Los Angeles, he works as a freelance content writer and copywriter for companies in real estate, property management, and similar industries. Tyler's main professional passion is writing about critical issues affecting big and small cities alike, including housing affordability, homelessness, inequality, and transportation. When he isn't working, he usually plans his next road trip or explores new neighborhoods and hiking trails.