Workers at Amazon's largest warehouse in Staten Island will be voting over the next week on whether to form a union. If the vote passes, these workers would become the e-commerce giant's first U.S. employees to join a union. The vote at Warehouse JFK8, located in Staten Island, runs from Friday, March 25th through Wednesday, March 30th. 
The employees at the Staten Island facility will be voting on whether to join the Amazon Labor Union (ALU), an independent union led by current and former workers. The National Labor Relations Board will tally the votes and announce the results after the voting period has ended.  
Like much of NYC, Staten Island is a union town. If the Amazon Labor Union wins the vote, they will be making history as the first group of Amazon warehouse workers to unionize successfully. The Amazon workers at this facility, which has challenged Amazon before, are hoping to succeed.
Other Unionization Efforts
A second vote is scheduled to begin on April 25th at a different Staten Island warehouse, LDJ5. At the same time, employees at the Amazon warehouse in Bessemer, Alabama, are voting on whether to be represented by the Retail, Wholesale and Department Store Union. Mail-in ballots were sent out in early February and are due today. A win at either of these facilities, each employing more than 5,0000 workers, would be crucial at turning the tide toward unionization at the e-commerce giant.
The Amazon Staten Island JFK8 Warehouse
Approximately 7,500 people work at the JFK8 warehouse. The union drive is led by former Amazon employee Chris Smalls. Smalls was let go from the company in 2020 after speaking out about unsafe working conditions at the facility. Vote organizers are asking for better pay and working conditions and increased health and safety measures. (Note: Amazon's starting pay at this facility is about $18 an hour and offers full benefits for full-time employees). However, the complaint is not just about pay and benefits. Many Amazon employees have cited numerous cases of dismal working conditions, such as having to clock out to use the bathroom or having managers question their whereabouts when using the bathroom facilities.
Amazon's Stance
Throughout its history, Amazon has been able to thwart any unionizing efforts and is again aggressively campaigning against this attempt in its Staten Island facility. Amazon stands firm with an anti-union message. The retail giant even sends letters to employees' homes, calling them by phone, holding meetings with current employees to discuss the disadvantages of entering a union, and posting an anti-union message at the facility. Amazon says that the mandatory meetings are meant to educate workers on what a union could mean for them.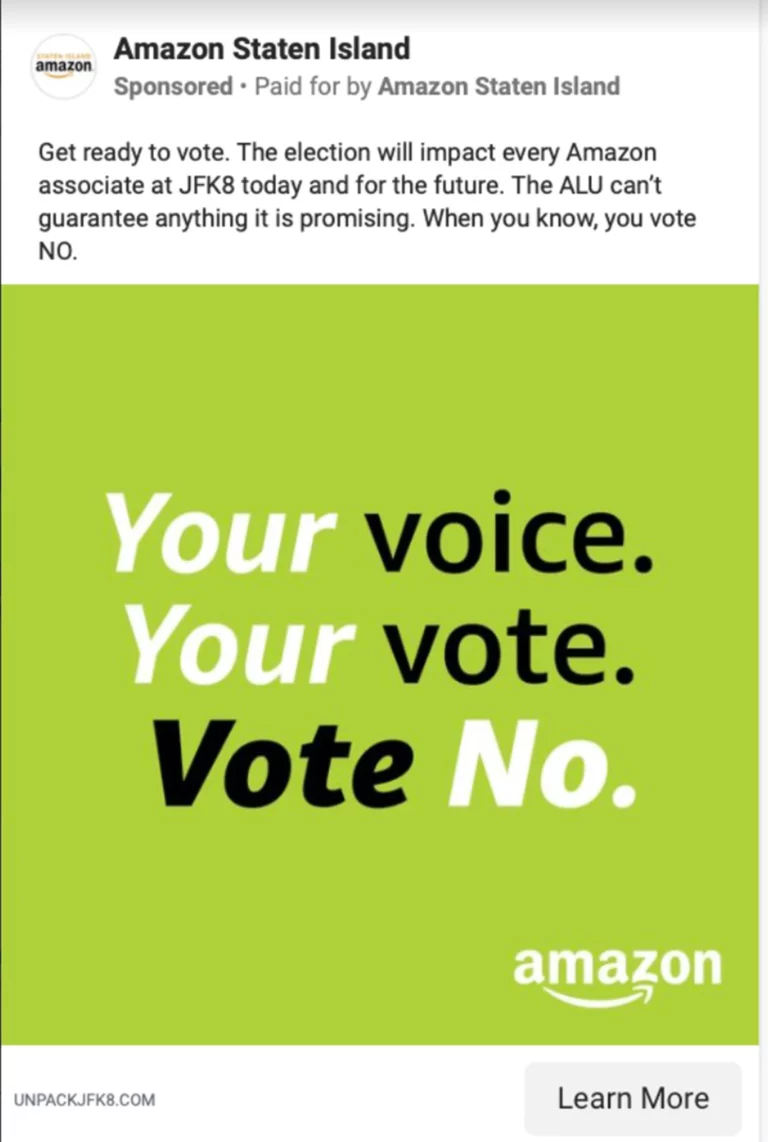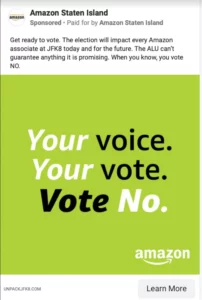 Kelly Nantel, the spokesperson for the online retailer, stated, "our employees have the choice of whether or not to join a union. They always have. As a company, we don't think unions are the best answer for our employees. Our focus remains on working directly with our team to continue making Amazon a great place to work." The company has also placed social media ads that read, "The ALU can't guarantee anything it is promising" and "When you know, you vote NO."  
Potential Outcome of the Union Vote
If the vote passes, it would be the first group of Amazon employees to be unionized in the United States. Organizers in this Staten Island warehouse hope that the movement will spread to other Amazon warehouses. As a major retailer in the nation and growing by the day, unionization at Amazon warehouses will certainly influence the movement of pursuing economic equality. Unions were a vital part of shaping U.S. Industrialization and could have a similar impact on the Digitization Age.
Why the Union Vote Matters:  Amazon workers have leverage, as they have become an 'essential' part of the e-commerce industry. A union will have the power to make the working conditions for hundreds of thousands of Americans and those to come as the company grows. A union of that size would have the power to demand certain benefits and working conditions.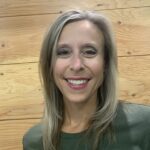 Lara Popeck has been writing for over 10 years, with a focus on business and real estate-related articles. She has a degree in Economics from Bryn Mawr College and an MBA from Montclair State University.