The Alphabet City Basics
Welcome to Alphabet City, the laid-back neighborhood with a punk rock history! When people think of Alphabet City, they think of the cast of RENT. This makes sense since the show is set in Alphabet City during the 1990s. While the neighborhood had that aesthetic at one point in time, today the neighborhood is a laid-back area, with a ton of bars and restaurants that cater to locals and visitors alike.
Alphabet City is part of the East Village, sandwiched between Gramercy Park to the north and the Lower East Side to the south. Even though the area is small, it has a distinct vibe to it that has carried over from its counterculture days. Even so, the neighborhood is a great place for families and young professionals. It's a convenient neighborhood for those who work in Manhattan and Brooklyn, but it's also an artistic enclave with hip energy.
The History of Alphabet City
The most distinct aspects of Alphabet City are the street names, which from west to east are Avenues A, B, C, and D. These are the only Manhattan streets named after single letters, and the reason for that dates back to 1811 when the city created the grid system that we know today. Lettered avenues were meant for every avenue east of 1st Avenue, and these avenues used to be much longer. However, roads to the south were renamed below Houston Street, and Stuyvesant Town cut off the streets to the north after World War II.
Alphabet City was rapidly developed once the Commissioners Plan of 1811 was enacted. The sudden growth meant that Alphabet City became very wealthy, very fast. However, as expansions continued north, the affluent residents went north with it. This left the area open to immigrant populations, especially those of Ireland, Austria, and Germany. In fact, the area was so popular with German immigrants that Alphabet City and the surrounding area became known as Little Germany.
Some of the first public housing projects in the United States were built in Alphabet City in 1935. This attracted even more immigrant communities, especially from Puerto Rico. The '50s and '60s were quiet in Alphabet city when writers, poets, and other artists flocked to the area. People like Alan Ginsberg and Gregory Corso lived there for a brief time. These artists attracted a more affluent crowd, and rapid gentrification began to price out the working class residents who had been there for decades. This led to the Tompkins Square Park Riots of 1988, which succeeded in curbing new rich residents for a while. However, gentrification began again, and now the neighborhood is full of families, young professionals, and students.
Where to Shop In Alphabet City
Alphabet City is very much a residential area. That said, there are several shops and stores that have made their mark on the neighborhood. Small bookstores and accessory shops are especially popular here. With great deals on quality goods, these hidden gems will be sure to put a smile on your face.
View this post on Instagram
Book Club
Part book store, part wine bar, all fun. Nothing is better than sitting down with a glass of wine and a good book, and this place lets you hangout until midnight every night of the week! They even have special events like Drink & Draws, creative writing workshops with wine, and, yes, even a book club, where community members gather to discuss the good reads they just finished. This store brings the neighborhood together in a fun way, so make sure to check it out.
CC Cyclery
Biking is extremely popular in this area, and cyclists need a place to go for repairs, new frames, or even entirely new bikes. Selling bicycles and bicycle accessories, this shop prides itself on craftsmanship, specializing in repairs and custom frames. They even offer a complete overhaul of your bike in the case of major disrepair or if you just need a change of pace. This place is extremely popular, so go see what all the buzz is about!
Enchantments
Your home for occult fixin's, Enchantments sells a little bit of everything. They work their magic on all their occult products, selling things like candles, books, tarot cards, essential oils, and even cauldrons. An eclectic store, this place is teeming with items found on any witch's list, and they make a perfect gift for someone magical in your life. Their custom candles are especially popular and are often sold out, so stay up to date so you don't miss any deals.
Museums and Galleries of Alphabet City
Despite the rich literary and artistic history of the neighborhood, Alphabet City only has a single museum. However, they do have several galleries and theaters that show off the area's artistic prowess, and these places always have something new and interesting to see. A bit more on the avant garde side, these institutions keep Alphabet City's artistic reputation alive.
View this post on Instagram
Dacia Gallery
Focusing on new and emerging artists, Dacia Gallery is all about representation, perspective, and community education. They hold regular classes on some very cool techniques and styles like gold gilding. They have open submissions, so you can send some of your work here if you're the artistic type. However, they're more than happy to welcome you as a visitor too. Check out their website to see their resident artists and upcoming exhibitions.
Nuyorican Poets Cafe
Opened in 1973, writers and poets have been coming here to perform and write for decades. Combining poetry, hip-hop, theater, and more, this venue isn't just a performing art space. Poets like Diane Burns, Miguel Piñero, and Bimbo Rivas have performed here. Their history is ingrained in the walls, and their story is told throughout the bar. The venue even has a poetry slam team that usually ranks in the top five slam teams in the nation.
Museum of Reclaimed Urban Space
Chronicling the history and activism of the East Village, the Museum of Reclaimed Urban Space tells the story of the neighborhood, and how it became what it is today. This museum celebrates the community organizers who literally reclaimed this area, cleaning up streets, fighting for civil rights, and transforming abandoned spaces into public spaces for the community to gather. They hold a number of events and exhibitions, so check out their website to learn more.
Landmarks of Alphabet City
Alphabet City might not be the oldest neighborhood, but it does have several structures that have survived the turmoil that once faced this area. The buildings and landmarks here tell a tale as old as the neighborhood. They provide an insight into how the neighborhood came to be, and where the area might be going.
The Charlie Parker Residence
Built in 1849, The Parker Residence is the former home of Jazz Saxophonist, Charlie "Bird" Parker. The gothic wonder received protected landmark status in 1999, and it's not just because of the architecture. The building's namesake was instrumental to jazz, even creating the genre known as bebop. Parker lived in the house when he was at the height of his fame. The home is so popular that a jazz festival is held in Tompkins Square Park across from the building.
First Houses
These buildings were not the first homes in NYC, but they were some of the first housing projects in the country. First opened in 1935, these homes paved the way for other housing projects to be built in New York, and around the country. Made from remnants of torn-down tenements, these buildings were made a national landmark in 1974, and are still used as public housing to this very day.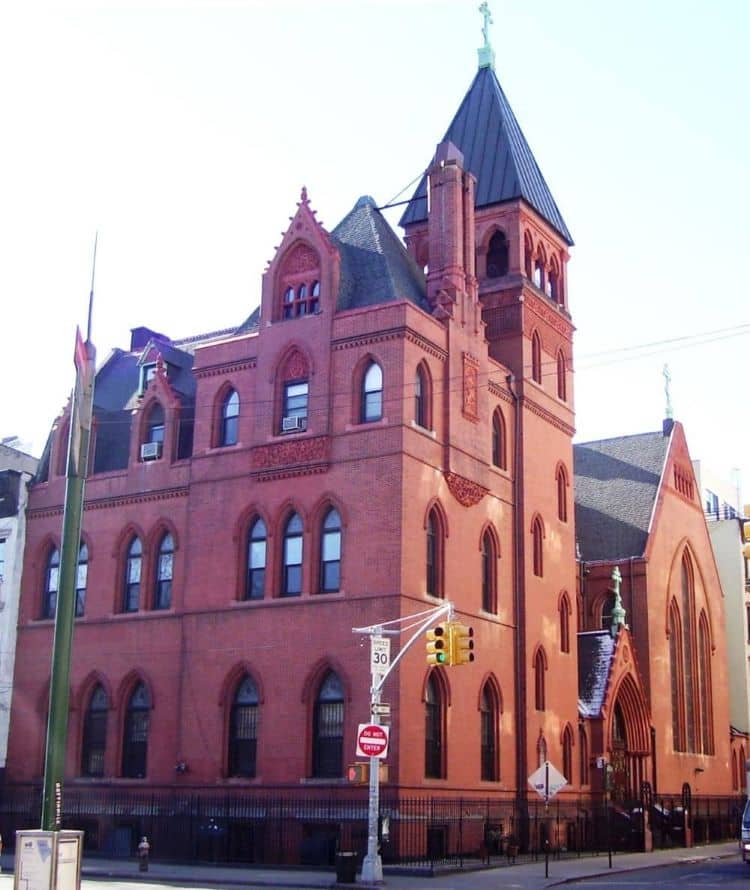 St. Nicholas of Myra Church
Built in 1883, this church was constructed in the gothic revival style. Landmarked in 2008, this building was a gift from the Stuyvesant family, in memory of Rutherford Stuyvesant's wife. This pristine building is still a church with an active congregation. They perform community service and even give tours of the church to those curious about its history and its architecture. If you're a fan of old churches, this is the place to be.
Where to Eat in Alphabet City
Alphabet City is full of small restaurants with amazing food. From Italian to Tapas, this neighborhood has something that everyone can enjoy. The atmosphere of these places is always hip and inviting, and the food will make your heart soar. There are a ton of great places to try, but some of our favorites include:
Fiaschetteria "Pistoia" ($$)
This taste of Tuscany will leave you full and happy. They have a wide variety of pasta, appetizers, and entrees that will make your mouth water. Some favorites include Gnocchi con Pomarola, Branzino All'isolana, and Tiramisu'. They also have an extensive wine list, so this would make an ideal date spot as well. The food and atmosphere here can't be beaten, so don't miss out!
Au Za'atar ($$)
Home of the original Tableside Shawarma, Au Za'atar has been an institution of Alphabet city for years. Serving Mediterranean and Middle Eastern dishes, Head Chef Tarik Fallous ensures a family-friendly experience that's delicious and comfortable. Their wine list is extensive, and their hospitality is top-notch. Try their Hummus bil Lahme, Grilled Halloumi Salad, or their Filet Mignon Shish Kebab.
Pardon My French ($$$)
View this post on Instagram
An upscale French restaurant, Pardon My French brings class and taste to the table when you eat here. The speakeasy bar is a great place to check out too, with specialty cocktails from mixologist Simon Sebbah. They also cater and host private events, making this a perfect location for an after-party, celebration, or work event. The best part, though? They do takeout! Get their Tartare de Boeuf or their Poulet Roti to go!
Tuome ($$)
Open for indoor and outdoor dining, this trendy restaurant has a Michelin Star, and it's easy to see why. Blending American and various Asian cuisines, chef Thomas Chen has created a truly unique experience that's insanely accessible. They offer delivery right on their website! With amazing munchies like Snow Crab, Steelhead Trout, and Wagyu Beef, you'll be ordering from here every night of the week.
Poco NYC ($$)
Everyone loves a Tapas restaurant, and Poco is one of the best in the city. They offer a ton of fun along with their great food. From boozy brunches to bottomless dinners, Poco wants you to have the time of your life while you're here. They also have private parties and weekly specials! They always have something going on here. People flock to the restaurant for their Lobster Mac & Cheese, Breakfast Sandwiches, and Challah French Toast. Try it today!
Where to Drink in Alphabet City
Any neighborhood that has great food also has great bars, and Alphabet City is no exception. With a chill but fun night life, this area is full of cocktail lounges, dive bars, and even the occasional Hookah joint. These places are perfect for a date or a night out with friends, so check out some of the spots listed below!
View this post on Instagram
7B Horseshoe Bar aka Vazacs ($)
An ode to the punk rock days of the East Village, Vazacs has over 30 beers on tap, a wide variety of liquor, and a punk rock jukebox so you can throw down all night long. The bar has a long history in the neighborhood and has been featured in shows like Russian Doll on Netflix. This place is insanely popular. The drinks are good, sure, but the atmosphere and the welcoming environment keep customers coming back again and again.
Nublu ($$)
A popular Jazz club, Nublu is famous for their live music, great drinks, and welcoming atmosphere. They also produce records, so you can bring your favorite performance with you! The club's drinks can be a bit pricey considering the rest of the area, but you'll be listening to new music legends in the making. Who wouldn't want to be part of such an amazing experience?
Otto's Shrunken Head ($)
This Tiki Dive bar is weird and wonderful. Celebrating 20 years in business, this bar is perfect for those who want cheap drinks, friendly staff, and even a surprise or two. There's a small performance space in the back where open mics and live music are frequently occurring. Rum cocktails are their specialty, but all their drinks are delicious. Try drinks like their Flying Fish, their Naughty Nell, or their Stormy Skull. You won't be disappointed.
The Pineapple Club ($$)
A classy cocktail lounge, The Pineapple Club is the perfect place to bring a date. The atmosphere is cool and classy, which goes perfect with their specialty cocktails like the Live, Laugh, Love Island, their take on a Long Island Iced Tea. Also try the Sad Boy Tears, a mixture of vodka, aloe, blue curacao, coconut, and citrus. They also have an extensive food menu, so you won't ever leave here disappointed.
The Wayland ($)
This cocktail bar is considered one of the best bars in all the East Village. That's probably because their food is delicious, their drinks are refreshing, and both come at a very reasonable cost. The Wayland simply wants everyone to feel like they're worth a million bucks, and they do that by offering things like the Off The Grid, a mixture of pisco, jicama, lime, habañero peppers, agave, and cilantro.
Cafes in Alphabet City
Alphabet City is a hip place, and any hip place in NYC needs coffee shops for people to get energized and do some work. The coffee shops are cute and vibrant, adding to the neighborhood in fun ways that leave customers with a smile. Most have sweet treats and free internet as well, so they are an ideal way to get out of the house for a bit.
B Cup Cafe
A cute cafe with amazing service, B Cup is a great place to get a latte or some avocado toast. They have twenty blends of coffee and tea, and even a specialty mint lemonade that's perfect on a hot summer day. Their food is fresh and delicious too, so check this place out today!
C & B Cafe
When it comes to cafes, the best ones have strong coffee, freshly baked bread, and delectable sweet treats to soothe the soul. C & B Cafe has all of this and more! Their food and drinks are amazing, but their attitude is what really sets them apart. When you walk in here, they make you feel like you're part of the family.
View this post on Instagram
Kolkata Chai Co.
Considered by many to be the best cup of masala chai in the city, Kolkata Chai Co. The cafe is small and sheik, offering small bites and a variety of tea and coffee. They also do deliveries of their tea and have instructional videos on their website that show you how to make the best cup of chai in the world. This place is truly unique.
Where to Live in Alphabet City
Alphabet City has had an increase in luxury rentals and condos over the last twenty years. However, there are still plenty of historic buildings to live in too. Though the area is small, there are still a good amount of places to live. Being a resident here is a dream that many New Yorkers have, and apartments in one of these buildings could be yours someday.
Rentals in Alphabet City
620 East 11th Street
A historic building from 1900, 620 East 11th Street is six stories tall with 26 apartments. This means that most apartments here are a bit bigger than the average rental in this neighborhood, and most units have been updated to include many modern amenities that people both need and want. This one is definitely worth checking out.
382 East 10th Street
A perfect building for young professionals, this building is full of one and two-bedroom apartments in a quiet part of the neighborhood. This building was erected in 1930 and has been housing New Yorkers comfortably for generations. The rental prices are a bit cheaper here, but the rooms are spacious and comfortable.
233 East 3rd Street
Newly renovated apartments between avenues B and C, 233 East 3rd Street is an awesome complex with available units. Many homes here are duplexes, outfitted with spiral staircases to upper levels. New and improved, this building might be from 1910, but the atmosphere is very trendy and modern.
Condos in Alphabet City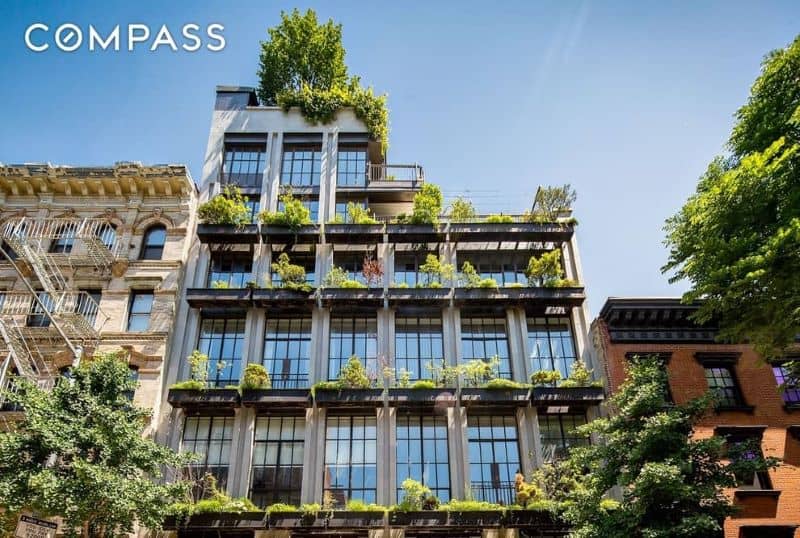 Novum East Village
A brand new condo in Alphabet City, this building is perfect for a younger crowd. It comes with a video doorman, a courtyard with grills, and a well-equipped fitness center so you can cancel that gym membership. This building is in a spot that's both quiet and fun. Residents can expect the best of the best from this place.
217 East 7th Street
A small but mighty condo in a quieter section of the neighborhood, 217 East 7th Street was one of the first newer luxury buildings to be erected in the area. With hardwood flooring and stellar appliances, apartments are very comfy and convenient. The gym and laundry room aren't too shabby either, so be sure to add this one to your list.
Flowerbox Building
A perfect building for nature lovers, Flowerbox is a full-service luxury building that features spacious loft apartments. Each home has flower boxes that self-irrigate, as well as private outdoor spaces perfect for sunny days. Some of these homes are duplexes, but even the single-floor homes are gorgeous.
Parks of Alphabet City
This neighborhood is mostly apartment buildings and shops, but there are several green spaces if you know where to look. Community Gardens and small parks are perfect ways to catch some shade during a hot summer day, and these parks have the added benefit of being in one of the coolest neighborhoods in the city.
Tompkins Square Park
The largest green space in Alphabet City, Tompkins Square Park is a popular destination for locals and tourists alike. With basketball courts, playgrounds, fountains, and farmers' markets, there's always something happening in this park. They even hold a number of festivals and events every year. Once you visit it once, you'll be coming back often.
Joseph C. Sauer Park
Just a block north of Tompkins Square, this small park has a playground and a community garden. What was once a vacant lot has been made a pillar of the community, where residents can come and garden in peace on a beautiful day.
La Plaza Cultural
A stunning community garden and outdoor theater, this park brings the community together, and invites those who live outside the neighborhood to pay a visit. With a number of events and performances during the year, you'll be sure to see something amazing. You can even book the garden for your own performance!
Dog Runs of Alphabet City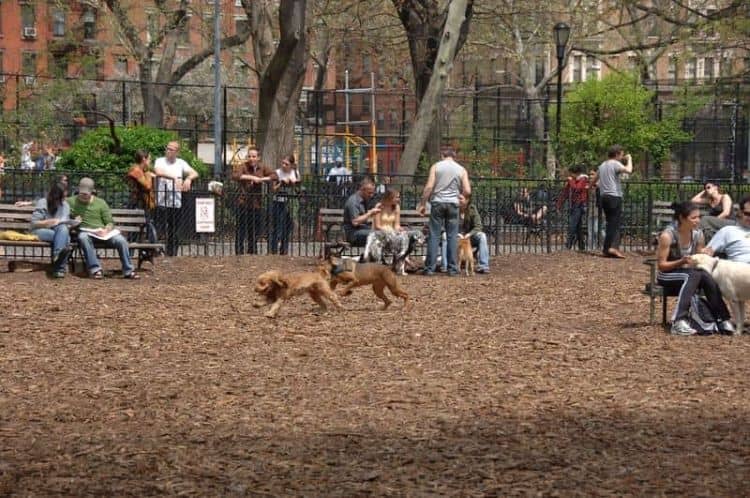 Most green space in the neighborhood is some kind of playground or community garden, most of which would prefer that you keep your dog away. That said, there is one great place you and your furry friend can run around in.
Tompkins Square Dog Run
A huge space with a lot for dogs to do, Tompkins Square Dog run is perfect for high-energy pets. The area is very open and has a good amount of toys and water features for your pups to enjoy, especially when it gets really hot in the summer. They don't have separate areas for small and large dogs, but the owners here are responsible and their dogs are friendly.
Traveling in Alphabet City
Alphabet City is small and very walkable, adhering to the grid system above Houston Street. Getting to this area can be a bit challenging, but once you're here it's unlikely you'll get tired or lost. There are a few things to know about travel here. Namely:
Trains – Alphabet City is most easily accessed by the 1st Avenue L Train Station. The 2nd Avenue F Train Station is also a good option, though it's a bit farther away than the L depending on where you're trying to go. The L is closer to the northern part of the neighborhood while the F is closer to the southern part.
Buses – There are several buses that make their way through Alphabet city. They include the M8, M9, M14A, M14D, and M21 lines.
Rental Bikes and Ride Shares – Driving in this area is possible. The streets are small, but the traffic is light, so ride shares are a good option if you want to get around quickly. Biking, on the other hand, is extremely popular. There are plenty of Citi Bike docking stations around, too, so biking is probably the most convenient mode of travel here besides walking.
---
Alphabet City is a small neighborhood with a big heart. This area has experienced a lot of ups and downs, but they've always bounced back. A center for art and activism, this neighborhood is proud of its history, and the shops, bars, and people show that pride all year round. Alphabet City is definitely a neighborhood worth visiting and residing in.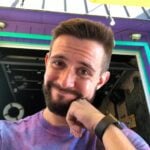 Russell is a writer and comic based in New York City. His plays have been featured at Penn State's Cultural Conversation's Festival, The NYC Thespis Festival, and Imaginarium's Inaugural Theater Festival. Follow him on TikTok and Instagram @pooleparty528