The end of October and Halloween are almost here which means it's time to usher in new excitement for the holiday season. First up is Thanksgiving day, of course.
For almost every American alive today, a mention of Thanksgiving Day conjures not just thoughts of turkey and pumpkin pie, but of giant balloons in the shape of cartoon characters winding their way through New York streets. The Macy's Thanksgiving Day Parade is a national phenomenon: what began as a retailer's promotional stunt designed to encourage Christmas shopping is now the world's largest parade and must-see television for millions. 
If you're eager to join New York's Thanksgiving Day tradition, you're in luck: the Macy's Thanksgiving Day Parade is once again open to spectators, after a television-only event in 2020 due to the COVID-19 pandemic. The parade will feature a brand new giant balloon in the shape of Grogu, better known as Baby Yoda, alongside perennial favorites like the Nutcracker and Snoopy. Floats will include the Jennie-O turkey, LEGO's The Brick Changer, and, of course, Santa's Sleigh. 
Details of the 2021 parade route and guidelines for spectators have yet to be announced. Social distancing will be in place and masks and COVID-19 vaccination will be required for all parade participants and staff. Check here in early November to learn how to view the parade in person. Macy's is considering the return of the balloon inflation event, which takes place the day before Thanksgiving in the blocks around the Museum of Natural History. That announcement will also be made in early November.
The First Macy's Thanksgiving Day Parade
The first Macy's Thanksgiving Day Parade was held on Thursday, November 27, 1924. Macy's—which moved to Herald Square from its original location on Sixth Avenue and 14th Street in 1902—had expanded to fill an entire city block, making it, in the words of its advertising wizards, the "World's Largest Store." The parade was an ingenious way of inaugurating the Christmas shopping season at the height of the Roaring Twenties, a time of financial prosperity and increased disposable income for many New Yorkers. 
The parade began at Convent Avenue and 145th Street in Harlem, and made its way down Convent, Morningside, and Manhattan Avenues before turning west on 110th Street to Broadway, where it processed to 34th Street. That first parade included a marching band, bears, elephants, donkeys, and floats like Mother Goose and Little Miss Muffet. Santa Claus, riding a float "in the form of a sled driven by reindeer over a mountain of ice," and preceded by "men dressed like the knights of old, their spears shining in the sunlight," was the parade's focal point, as The New York Times explained. Upon his arrival on 34th Street, Santa was greeted by 10,000 spectators. The jolly fellow ascended a throne and sounded a trumpet, at which time the Macy's Christmas window displays were unveiled. The theme in 1924 was "The Fairy Frolics of Wondertown," and displays featured Mother Goose marionettes. 
In 1927, the live animals of the first parades were replaced by animal-shaped balloons designed and built by puppeteer Anthony Frederick Sarg, who also designed the 1924 window displays. The balloon tradition continues to the present day. 
The Curious History of Thanksgiving in New York City
While the Macy's Thanksgiving Day Parade has been New York's tradition for almost 100 years now, it's worth noting the two customs that preceded it, and influenced its form and popularity. During the Revolutionary War, the city was occupied by British soldiers. Their evacuation on November 25, 1783, was a cause for celebration. For many years thereafter, citizens celebrated November 25 as Evacuation Day, with military drills, parades, cannons, fireworks, and feasting. Schools and shops were closed, and the public spilled into the streets in their finest attire, drinking and carousing.
In 1863, President Abraham Lincoln declared Thanksgiving (previously a New England regional festivity) a national holiday, superseding Evacuation Day in public imagination, though the military marches continued. From about this time a curious new tradition evolved: fantasticals. Originally a spoof of the day's martial marches, the fantasticals created parades of their own, featuring joke companies of men and boys costumed to look like "imitation Bill Tweeds, aborigines, clowns, women of the period, Wild Irishmen, man-monkeys," as The New York Times described in 1878. Children joined in, wearing old clothes, cheap masks, and begging door-to-door for pennies and treats. This practice evolved into something known as "Going Ragamuffin." It is immortalized in the classic New York novel A Tree Grows in Brooklyn: "Most children brought up in Brooklyn before the First World War remember Thanksgiving Day with a peculiar tenderness. It was the day children went around "ragamuffin" or "slamming gates," wearing costumes topped off by a penny mask…The street was jammed with masked and costumed children making a deafening din with their penny tin horns…Some storekeepers locked their doors against them but most of them had something for the children."
"Going Ragamuffin" died out in the 1920s and 1930s due to a prohibition on begging and the Great Depression—the very moment the Macy's Thanksgiving Day Parade was establishing itself as the city's premiere celebration.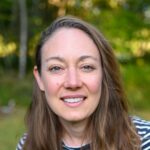 Leah Reddy is a New York-based writer, video editor, teaching artist, and theatre director/dramaturg with roots on the westside of Cincinnati, Ohio. She's been lucky enough to teach in all five boroughs of NYC and as a result, spend time in our fantastic city's lesser-known neighborhoods. An avid runner, foodie, and NYC history buff, she will talk your ear off about her favorite subjects and try to convert you to her level of enthusiasm for the Yiddish Broadway walk of fame, thali, and the fact that Chester Arthur was sworn in as President of the United States in the building that now houses Kalustyan's. She wants all New Yorkers to be able to enjoy their city and to marvel in the things that surround us all each day.