There's so much great food in Brooklyn, it's often nice to get together to share a variety of different items over drinks, so you can try more deliciousness. You pick a few items, and as soon as those dishes arrive on your table, you order a few more, so the pacing is right. You can just focus on enjoying your company. And, if you're not entirely enjoying your company, you've got plenty of fun food to play with too. The better places also focus on providing more interesting wines, cocktails, or beers to enhance your overall experience. While this isn't a complete list of places worth trying, these seven are certainly a great start.
Pheasant
For those who frequent apartments in Williamsburg and want Mediterranean bites while sipping on natural wines, Pheasant is a tremendous choice. They have a small bar and some indoor seating, but the real gem is their garden seating out back. It's fairly small and intimate, but with a simple and sweet, relaxed vibe. Their rotating seasonal food menu features small plates that are meant to be shared, which makes this a great place for small groups so you can try more things. Their current brunch menu includes some typical dishes like avocado toast as well as cornflake French toast or banana sticky buns with orange labneh. Their dinner menu features a couple of the same brunch items like little gem caesar or Spanish sardines on sourdough as well as pan-seared scallops and lamb kofta. While they don't have the most extensive wine list, they do offer quality over quantity, including skin contact wines.
Sofreh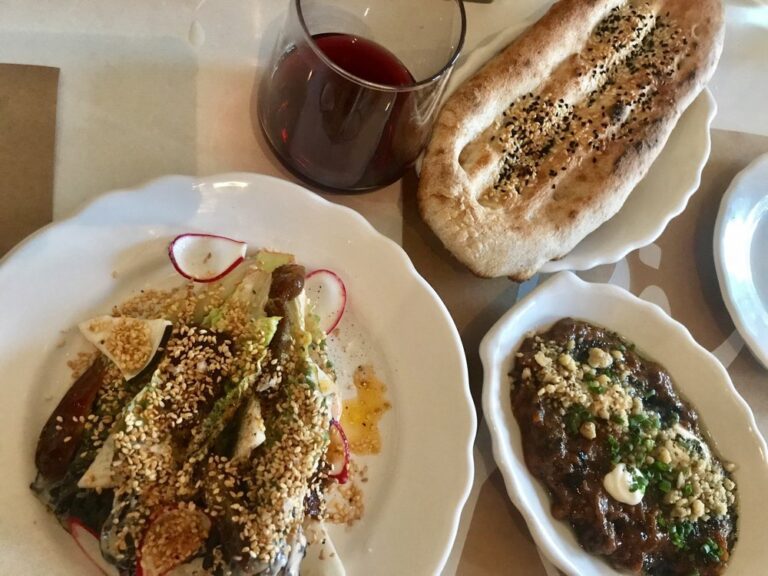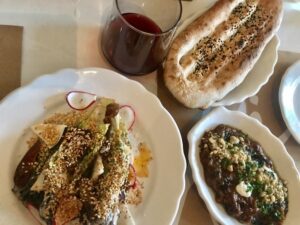 If you want a more creative take on Persian food, try Sofreh in Prospect Heights. From the second you walk in, it feels light, airy, and modern. They have a main dining area and patio seating in the front and back, but this place fills up fast! Reservations are recommended, or grab a drink around the bar while you wait. It will be worth it. The best approach is to order a number of dishes and share, like the eggplant and whey dip, the meatballs in tomato saffron broth, the shallot yogurt, and the fall-off-the-bone, melt-in-your-mouth lamb shank. You can't help but notice the bartenders shaking the hell out of the incredible cocktails with all types of special Persian ingredients, like sekanjabin mint syrup, sour cherry, cardamom, and rose.
Xixa
If you're near Williamsburg and have a hankering for fun, creative Mexican food paired with different mezcal drinks, try Xixa. It's one of those places you could easily walk past, but once you enter, it's full of color and personality, quite reflective of the food and drinks. You can either try their tasting menu or order various small plates. Some stand-outs are the charred edamame, foie gras al pastor, and the heavenly roasted pork mole tacos. Each mezcal cocktail pairing is delicious, especially their deconstructed margarita, which evolves as the different iced components melt together.
La Vara
Over in Cobble Hill lies La Vara, a charming down-home tapas restaurant with a Moorish and Jewish twist. Most of the dishes are not your typical tapas like their beans in semi-dry tomato and grape-leaf vinaigrette or beef jowl terrine. They also have a diverse list of cocktails, wines, beers, and sherries.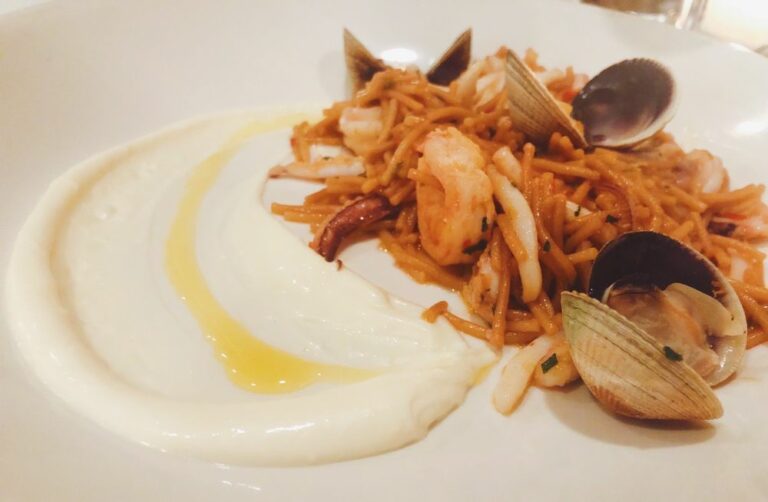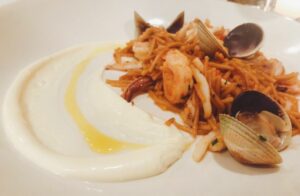 Saint Julivert Fisherie
For creative seafood, you can also head next-door to La Vara's sister spot, Saint Julivert Fisherie. Besides your typical chowders and lobster roll, they whip up a number of fun, shareable plates like fluke ceviche, squash blossom quesadillas, and jerk yellowtail collar. They've got high-top bar seating and some nice craft beers.
Rucola
If you're closer to Boerum Hill, Rucola offers farm-to-table Northern Italian-influenced fare, which they complement with a list of artisanal wines from regions in and around Northern Italy and the Mediterranean from many producers that are less represented in the US. They have an intimate, gothic tavern kind of vibe with some indoor seating under some dimmed mood lighting. They also have some parklet seating outside. Their menu offers some charcuterie-type cheeses, meats, or veggies followed by a few choices of appetizers, salads, pastas, or meats. While the food menu is one page, and the wine and drinks menu is another page, picking some items from each and grazing seems like the way to go here.
Tong
If you're in the mood for Thai small plates, head over to Tong in Ridgewood (located at 321 Starr St), where the vibe is relaxed, industrial chic. Here, you get to have the experience of trying all that amazing Thai street food–heat and all–without having to fly to the other end of the planet. Plus they have cocktails. Most of their kub klaem menu is designed to order a bunch of small plates and share. Some stand-outs are their spicy beef tartare, fried chicken with crispy sauce, or the oysters with lemongrass and chili jam.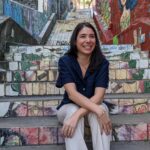 Jasmin Richie is a native New Yorker-turned-expat. Since 2014, she's lived in Brazil and Singapore and has traveled to over a dozen countries, chronicling it all in her travel and food blog.