In case you've never been to Sunset Park, Brooklyn – home of 24-and-a-half-acre Sunset Park, also known as Brooklyn Park – we'd like to invite you along as we explore this neighborhood in detail, sharing its bountiful assets. It's a beautiful day outside, with that perfect-weather, summer-in-the-air-feeling that fills your nostrils and renews the soul. A picture-perfect day for exploration!
About Brooklyn Park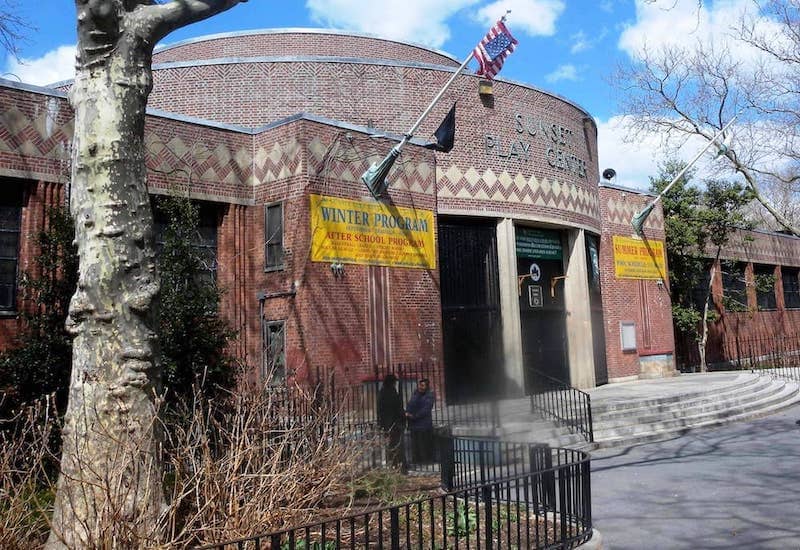 We'll start with the neighborhood's namesake, and probably why natives call it Brooklyn Park. The park boasts a large playground and Sunset Play Center, pictured above, a designated landmark inside and out, that contains a recreation center and a public art-deco-style pool. The park is also home to the Sunset Park Memorial Grove, planted in 2002 to honor the memories of the September 11th attack victims. Additionally, the park also features multiple sports fields and a 164-foot hill that offers stunning views that include the Statue of Liberty, the New York Harbor, and the borough of Manhattan. Sunset Park is open daily from 7 am to 10 pm. But this location has many more interesting facts, so let's check them out before moving on, shall we?
Brooklyn Park – More Facts / History
The land we now call Brooklyn (Sunset) Park was acquired from 1891-1905, and originally sported a man-made pond, a 6-hole golf course, a carousel, and a rustic shelter. These features were removed in 1935-1936, and the pool replaced the pond. The pool and recreation center were last renovated in 1983-1984. Currently, the grounds outdoors contain four basketball courts, two handball courts, two soccer fields, and a baseball field that overlaps one of the soccer fields. Inside the recreation center are an indoor basketball court, seven table tennis tables, a gymnasium, and a billiard table. While outside the Play Center everything is free, to use the pool and indoor recreation center requires a membership.
Sunset Park Neighborhood and Real Estate
Sunset Park, the neighborhood, is a historic district in Brooklyn that covers approximately 280 acres. The arrival of elevated railways and the subway in the 1890s to the 1920s led to this area being developed. Today, it is incredibly diverse, with ethnic groups from all over making up the community. The first spec houses were built in the mid-1880s, and the park and neighborhood were named Sunset Park by 1909. There were many row houses built in Sunset Park, originally developed for middle-class New Yorkers who were professional and skilled workers but could not afford to live in the suburbs.
The first residents of Sunset Park were Irish, Jewish, German, and Italian, but also had a growing Scandinavian and Norwegian population. Different sections had different ethnic nicknames, such as "Finntown" and "Little Norway" – a habit that has lingered to the present date. These row houses were built with dual-family occupancy in mind and were more affordable and attainable than single-family homeownership.
Interestingly, along with the Finns came the idea of cooperative housing. In fact, located at 816 43rd Street, Alku and Alku Toinen are said to be two of the first co-op buildings in all of New York City. When construction was at its peak in Sunset Park, hundreds of developers were involved in the building of these Sunset Park homes. Most were not trained as formal architects, and often reused simple business designs that were easy to build. The neighborhood became characterized by its row houses, limestones, and brownstones.
Just for fun, we thought we'd see what's on the market today in Sunset Park, and here's what we found.
Of course, this is the outside of the building, but it just so happens this is one of the first co-ops ever built! It's located at 4113 7th Avenue, Unit #1, and is listed at $530K. The picture below shows a plaque on this building, actually stating that it is one of the first co-ops built in the entire country. (You can imagine our excitement!)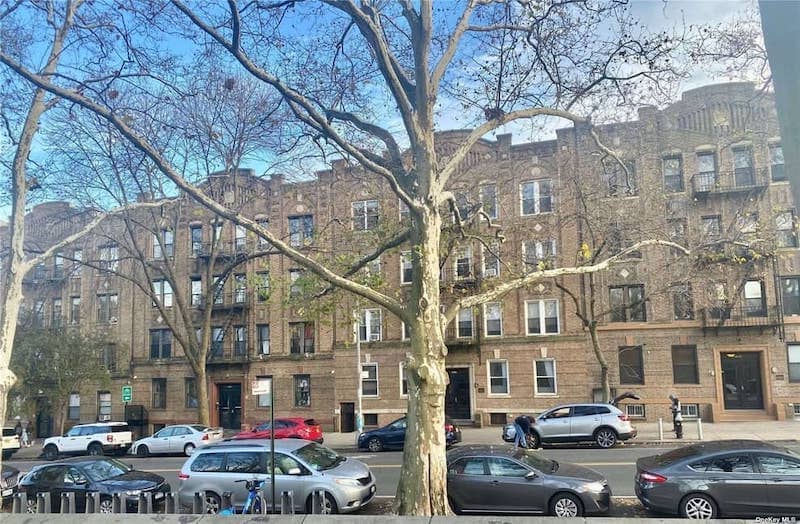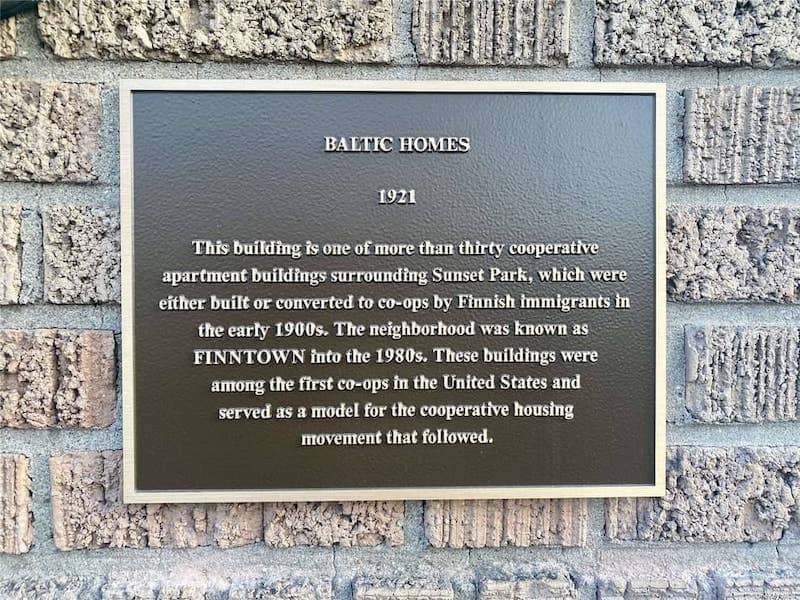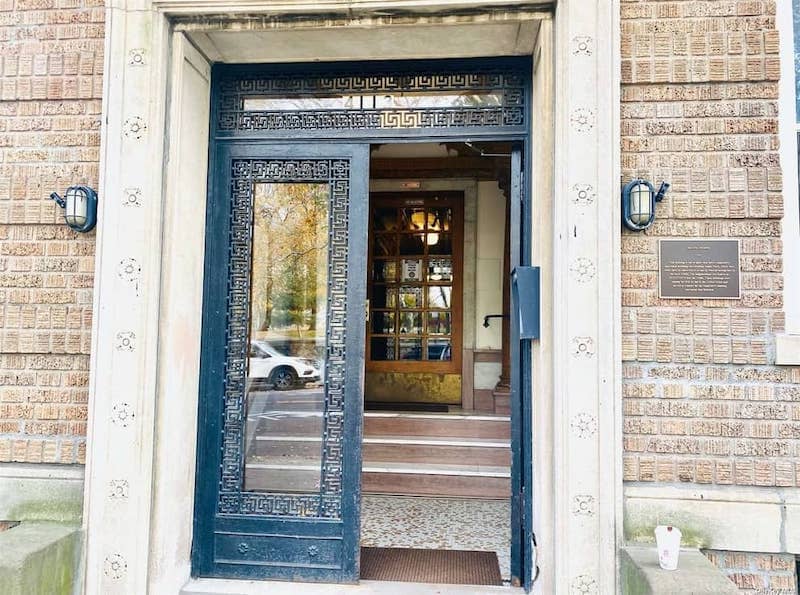 This co-op has 2 bedrooms and 1 bathroom, 650 ft² so not a lot of space, but these were made for affordability. We love the look of some of the old brownstones and row houses. They just have a special, old-fashioned kind of charm. This beauty comes with original parquet floors, crown molding, high ceilings, and includes heat and water. Check out the interior, below. Find out more details here.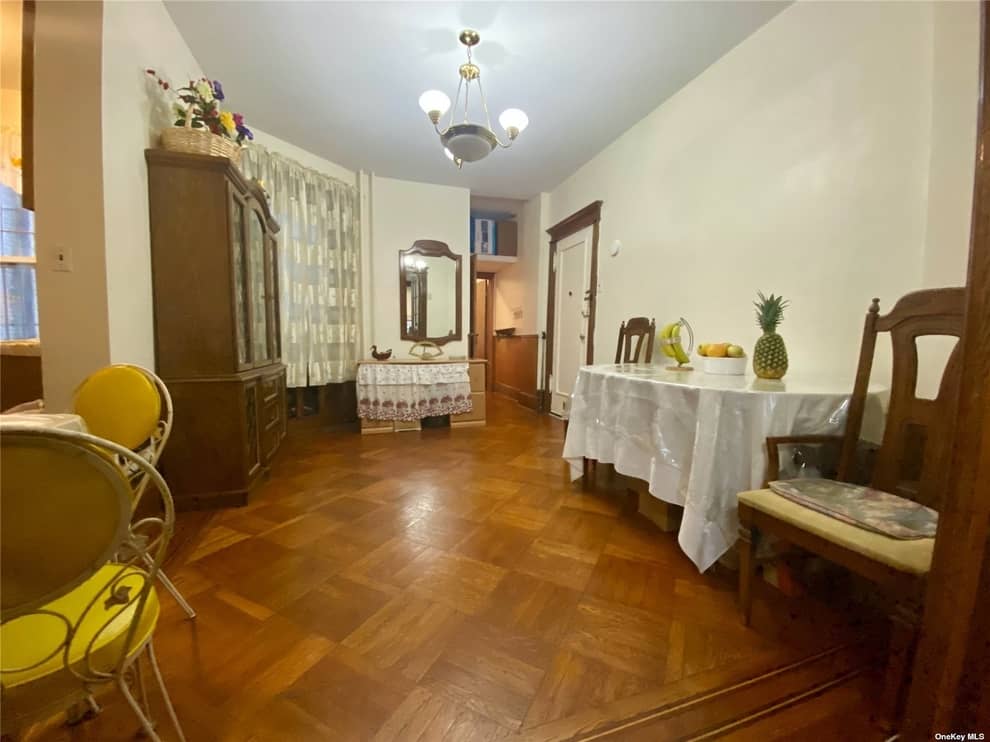 Incidentally, this co-op would also make an excellent investment opportunity, with an unheard-of cap rate of 4.83%. Now, wasn't that exciting?
Other Notable Facts
Sunset Park is also known for its cultural diversity, and specifically its predominantly Hispanic (47%) and Asian (32%) population. This community as a whole has come a long way and surely takes pride in its unique space, as well as its environment. Neighbors are close friends and family; many grow up together, so the community is strong. The population is about 104,834. The majority of people rent their homes in Sunset Park, and the median household income is $50,640. The current median listing price in Sunset Park is $1,399,999. Let's check rentals out real fast since we found that most people in Sunset Park rent their homes – which, incidentally, is by a surprising margin.
Renting in Sunset Park
According to RentHop, the median rent in Sunset Park for a 2 bedroom, 1 bathroom apartment is $2000. Right now, the housing market is so hot there is really very little available, and what does get listed gets snatched up quickly. However, we found a handful, and to give you an idea of what's available there, we're including one we picked out as our last stop on this adventure…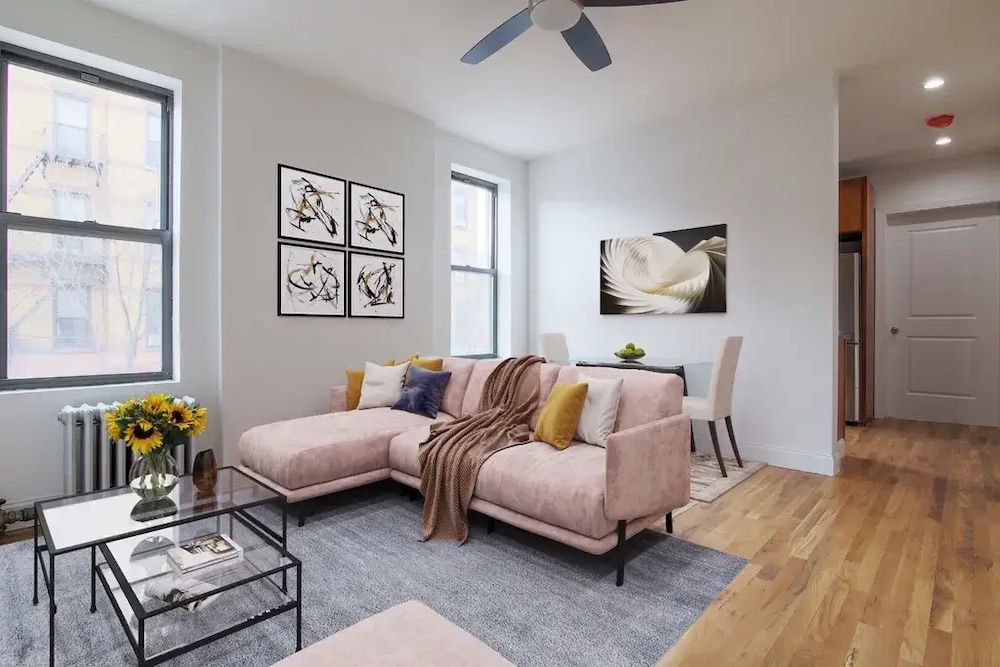 This spacious apartment is located at 5723 5th Avenue, Unit #BB. It's 2 bedrooms and 1 bathroom, and features a separate kitchen with stainless steel appliances, a dishwasher and a washer and dryer, in-unit! Hardwood floors are lovely as you can see above, and this second-floor unit is conveniently located for either public or private traveling options. It has been approved for immediate move-in and will cost you $2,550 monthly. Looks like a pretty good deal to us.
And with that, we'd like to thank you all for joining us today – and for sticking with us to the end. We sincerely hope you enjoyed our brief segue into Sunset Park and will join us again next time!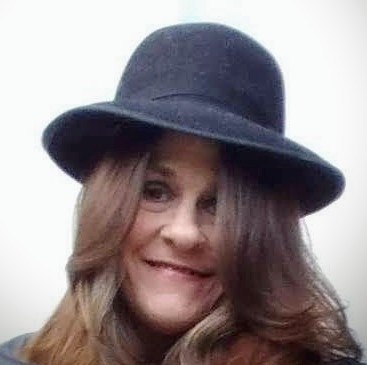 Rochelle Harris is a passionate writer originally from Phoenix, AZ. who credits her success to integrity and determination. She has a great sense of humor, loves music and her family, and writes fiction and poetry in her spare time. She is excited about the New York experience and lifestyle! Follow Rochelle on Twitter at @LinguisticAnRky or get in touch at [email protected]