The Financial District Basics
Welcome to the Financial District, home to Wall Street, South Street Seaport, and The World Trade Center! When people think of FiDi, they usually envision the likes of The Wolf of Wall Street, where wealthy stock brokers yell "Buy! Buy! Buy! Sell! Sell! Sell!" all day long. While that image isn't wholly inaccurate, it's only a small part of a much larger neighborhood. 
FiDi is enormous for a Manhattan neighborhood. The neighbors directly to the north include Two Bridges, Chinatown, Civic Center, and Tribeca. The neighborhood ends at The Battery, which is the southern tip of the island. It's bordered by Battery Park City and The East River, so the neighborhood is tall and wide. Because of its size, the neighborhood has a lot going on and is constantly adding new buildings, restaurants, bars, and attractions.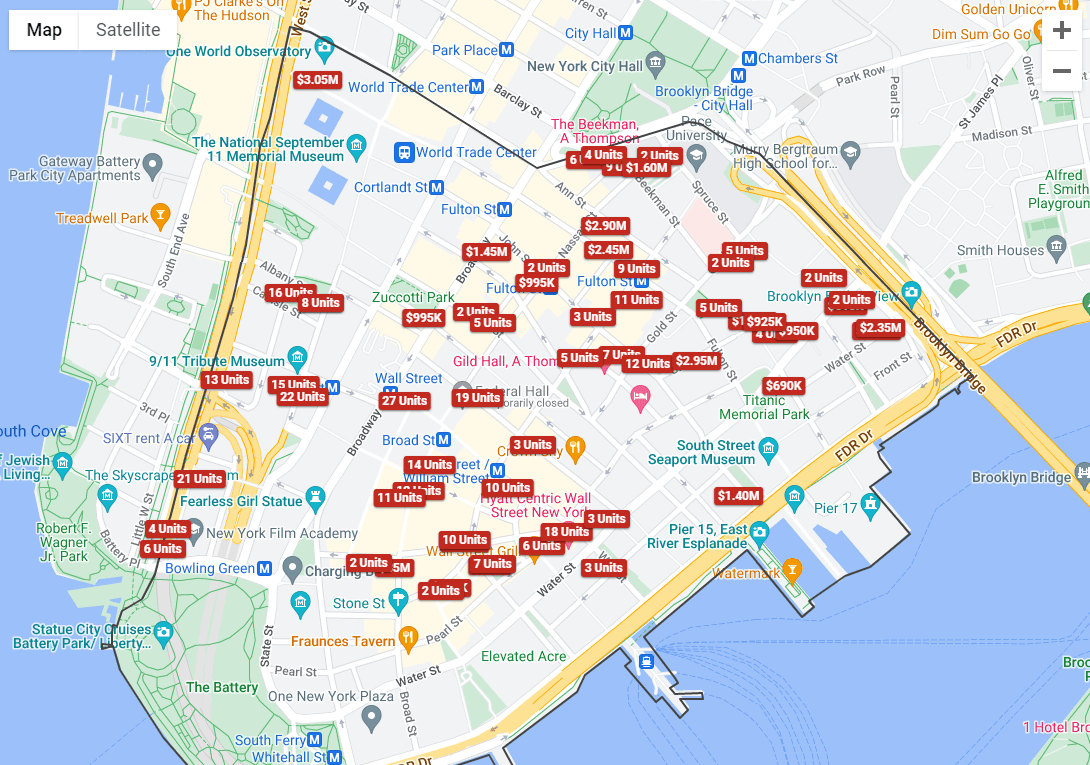 Many people will tell you that FiDi gets pretty quiet after 5PM, especially on weekends. While it definitely gets less busy, the neighborhood has been slowly transforming from a concrete jungle meant solely for business, into a concrete jungle meant for business and pleasure. Since 2002, the population has soared from roughly 20,000, to over 60,000 people as of 2019.
This population boom has led to a cultural boom as well, with many businesses opening their doors in the area. Many bars and restaurants have made the neighborhood a popular place to visit for both locals and tourists alike, and the number of shops and entertainment options, especially at South Street Seaport, have never been more diverse. Not convinced yet? Let's take a closer look at everything FiDi has to offer.
The History of Financial District
FiDi began life as a colony of New Netherlands. It was the first neighborhood of the New Amsterdam province, and it had a population of around 2,500 people in 1664, when the British took over and renamed the area New York. As the birthplace of the modern day city, many commercial enterprises were founded there, including maritime trade routes, financial institutions, and government buildings.
During the Revolution, FiDi was mostly controlled by the British after they defeated George Washington in a series of battles. Once the city was taken back, the neighborhood became a popular spot for government officials to work, do business, and have a good time. Once federal government institutions began to leave the area, early skyscrapers started to pop-up. Financial government institutions largely stuck around, and wall street cemented their place in the neighborhood, and inner workings of the country, in the late 1800's.
During the 20th century, FiDi was mostly a commercial neighborhood that turned into a ghost town after 5pm on weekdays. Some people even described it as an eerie stillness that plagued the neighborhood after the Wall Street bell sounded. Less than 1000 people lived there in the 1970's, but the population rose to more than 13,000.
After the horrific events of September 11th, 2001, the neighborhood was desperate to reassure people that it was a safe and viable place. In 2002, a revitalization effort began. The new World Trade Center began construction, and dozens of buildings were converted from commercial spaces to residential ones. Today, the area is still growing, and shows no signs of slowing down.
Where to Eat in Financial District
View this post on Instagram
Eating is one of the greatest joys in life, and FiDi is lucky enough to have some of the best restaurants around. Whether you want fancy or deep fried, this neighborhood has a plethora of options for every palate. Some of the best to look at are:
Crown Shy ($$$)
Boasting a diverse and delectable menu from chef James Kent, Crown Shy is the crown jewel of Pine Street. While dishes mainly draw from European traditions, inspiration is taken from all across the world. Some of their most stunning dishes include squirt ink treccione with lamb ragu and mussels, dorade with tomatillo mole and radish, and the satsuma orange ice cream with honey and toasted marshmallows.
Cowgirl SeaHorse ($$)
A rootin' tootin' Tex-Mex restaurant with plenty of events and drink specials. Along with generous helpings of amazing food, there's live music every Monday, trivia nights on Wednesdays, and Taco Tuesday specials on, you guessed it, Tuesdays. You can also book private events, and get first dibs on reservations and info by signing up for their newsletter! This is easily one of the best country restaurants in the big city.
Reserve Cut ($$$$)
This upscale kosher restaurant comes to us from chef Albert Allaham, a master butcher who's been in the food business since he was 12 years old. The menu is full of delicious meats and flavors from around the world. They even have an entire section of the menu dedicated to umami fed wagyu. Ounce for ounce, this steakhouse is a top notch meal you'll never forget.
The Hideaway Seaport ($$)
A delicious hidden gem with a little bit of everything, The Hideaway is an eclectic restaurant and event space. The lighting is cool, the decorations are sleek, and the staff is amazing. Located in the Seaport area of FiDi, you'll love the cobblestone streets and fresh air just off the river. Try some fan favorites like their loaded fries or teriyaki turkey burger! You won't be disappointed.
Manhatta ($$$)
Soaring high on the 60th floor of 28 Liberty Street, Manhatta is an eclectic fine dining experience that will keep you coming back. Their menu is separated by small plates, large plates, and desserts, all three of which have delicious options for you to enjoy. Try a small plate of black bass crudo, a large plate of hanger steak, and then have some donut holes for dessert, all while enjoying a signature cocktail from the bar.
Where to Drink in Financial District
View this post on Instagram
The Financial District's nightlife is a bit quieter than other Manhattan neighborhoods, but more and more options are popping up everyday. From beer halls to cocktail lounges, the bars here are filled with friendly faces, a stellar atmosphere, and amazing drinks. Some local favorites are:
Cedar Local ($$$)
This bar isn't called "Cedar Local" because the owners wanted to sound cool. That's just an added benefit. When they say "local" they mean it. For two decades this establishment has been serving over fifteen local beers and ciders, along with a plethora of specialty cocktails that have locals coming back again and again. They're also available for private engagements and parties, so make sure to check them out.
Fresh Salt ($$)
A cozy hole in the wall in South Street Seaport, Fresh Salt is a great place to grab a drink with friends, as well as a quick bite to eat. The bar is very popular with locals, and can be found by looking for a faded sign from 1885 that used to read "Fresh Salt and Baked Fish." Formerly a smokehouse, you can grab a burger and specialty cocktail before you head to the water. We recommend either their Smoke & Honey cocktail or their Plum Old Fashioned.
The Dead Rabbit ($$)
Called "The World's Most Awarded Pub," the Dead Rabbit, indeed, has a lot of accolades. Since Sean Muldoon and Jack McGarry opened their doors in 2013, they have won eight Tales of The Cocktail Spirited Award and a Best International Bartender Award. They have cocktails inspired by Irish tradition and traditions from all around the world. Recommended drinks are the Doctor's Orders, the Camera Shy, or the Irish Coffee Martini. Be sure to check out their food menu as well.
The Cauldron Magical Pub ($$)
Everyone can use more magic in their lives, and The Cauldron Magical Pub can make that happen. They have a large cocktail menu of specialty drinks and "potions" to enjoy, but this bar goes the extra mile. The Cauldron offers potion making classes, where visitors don a cloak, hold a magic wand, and learn how to make some of the delicious signature cocktails offered at the bar. Some potions served in a cauldron include The Three Witches and Phoenix Feather. Don't miss this magical experience!
The Porterhouse Brewing Company ($$)
If you're looking for a place that knows it's beer, then The Porterhouse Brewing Company is the place for you. With a ton of international craft beers, and many visiting beers through the year, this place is perfect if you're looking to grab a pint and watch the big game. With an extensive food menu and signature cocktails, you will not be disappointed. The best part of this place is their beer garden patio that's perfect on a hot summer day. So grab some friends, buy some cold ones, and don't forget the sunscreen.
Cafes in Financial District
View this post on Instagram
New York City is full of hustle and bustle, and no neighborhood exemplifies that more than the Financial District. Coffee is a way of life here, so it's important that the neighborhood knows how to make a decent brew. Some of the best coffee houses in FiDi are:
787 Coffee
Based in Puerto Rico, this café has a unique assortment of drinks like the Iced Horchata Latte and the Mazapan Latte. These drinks are sure to perk you right up, and you can enjoy them with a delicious empanada, breakfast taco, or quesito. Featured on NBCNews, this establishment is a special one, so make sure you check it out!
A coffee shop that is very on brand for the neighborhood, Suited is a go-to for many business folk that live or frequent FiDi. Founded by Andrew Fazio and Wilson Johnson, this café has tailor made drinks and specialty breakfast sandwiches that will give you the pick-me-up you need to start, get through, or finish your day.
Blue Spoon Coffee Company
A well reviewed café that's been around since 2005, Blue Spoon Coffee Company is the perfect place for a relaxing cup of Jo. The establishment prides themselves on their music taste, classy décor, and friendly staff. Their coffee is also a point of pride, with a plethora of hot and cold drink options and sandwiches to go with it. You can call ahead and make an order too, which is good since this place is very popular.
La Parisienne
A cute and classy French café, La Parisienne was started by Julie and Adrian Bruyère, a young French couple with a culinary dream. After working in French restaurants for years, they decided to open their own establishment. Now the couple serve the good people of FiDi delicious food and drinks, with coffee of all varieties as their specialties. It's a cute establishment with amazing drinks, and an adorable story.
Where to Shop in Financial District
View this post on Instagram
While FiDi isn't considered a shopping district, there's a decent amount of boutiques and stores to spend your money in. Classy and stylish, these venues are perfect for those seeking fashionable outfits and other goodies. Some of our favorites are:
Hermés
A French owned store that sells clothing, jewelry, home goods and more, this shopping experience is one that the entire family can benefit from. They have a ton of stuff that is unique to the brand. This is not just another clothing chain. The outfits are unique, and scream high society. Check them out if you want to get sophisticated.
Midtown Comics – Downtown
Comic book fans won't want to miss this place. Part of the Midtown Comics family, Downtown has new issues of everything superheroes, anime, and even comics from the funny pages. They also have a wide variety of collectible figures, cards, and more. This place is truly a geek paradise, so come on down and get the latest issue featuring your favorite heroes.
The Seaport
South Street Seaport has a lot to eat and drink, but it's also a popular shopping destination with a lot to offer. Like to read? Visit McNally's Bookshop. Like to buy clothes? Get your fix at Club Vintage or Mure + Grand. There's even a traditional cobbler here called SRGN (The Shoe Surgeon). The Seaport is a fantastic part of the neighborhood, so make a trip there today!
Museums of Financial District
View this post on Instagram
As one of the oldest neighborhoods in the city, the historical richness of FiDi is ever present. Much of the nation's historical artifacts, tributes, and stories reside in the walls of these museums. There are over 15 museums in the area, and their cultural significance cannot be understated. Some of the most decorated museums in FiDi are:
The National September 11 Memorial Museum
A tribute to the victims and the heroic first responders of one of the darkest days in American history, this memorial museum is a sight of reflection and respect. The memorial at Ground Zero, which is free and open to the public, features North and South reflecting pools where the twin towers once stood, with the names of all those who were lost on that fateful day. The museum requires advanced purchase, and details the impact and significance of this tragedy. It's a sight that will challenge you, but it's an important stop for those who grieve, remember, and honor the fallen.
The South Street Seaport Museum
A museum that celebrates New York's place as an international shipping hub, South Street Seaport Museum is fun for the whole family! Featuring exhibits about architecture, migrants, cargo ships, and more, you'll be fully immersed in the port culture that used to dominate New York City. There's even an interactive exhibit on an old sailing ship! It's a fun place where you'll learn a lot about the city.
The National Museum of the American Indian
Before NYC was NYC, it was home to the Lenape nation. This museum features their stories, as well as the stories of many other native nations that have been displaced. It's an important look at the history of your nation, and how native peoples have been serving, living, and working in the US despite unfair, and often harsh, treatment against them. A fascinating look at other cultures is always worth the travel, so this is not to be missed.
Landmarks of Financial District
View this post on Instagram
As a historic neighborhood, the Financial District has many landmarks from America's founding. It also has many newer sights that have found their way into the cultural zeitgeist. Bring your camera for these landmarks, because they make for great selfie material:
Charging Bull and Fearless Girl
Though sculpted separately, these statues play off one another, invoking a powerful image of what FiDi once was, and what it is becoming. Both sculptures were erected without city knowledge or permission, Charging Bull in 1989 and Fearless Girl in 2017. Though the two statues currently sit a block away from one another, they are meant to be seen together, at least according to Fearless Girl sculptor Kristen Visbal. Arthur di Modica, creator of Charging Bull, would prefer to keep the two separate.
Trinity Church
This famous chapel was the site of numerous historic events, including its burning in 1776 during the revolution, George Washington attending the church after his inauguration, and parishioners included John Jay and Alexander Hamilton. The tallest building in New York City until 1890, this landmark is still a working church and open to the public, which is very exciting since President Washington's pew is still on display. 
The New York Stock Exchange
Putting the "finance" in the Financial District, the New York Stock Exchange is the largest stock exchange on Earth. Trades that happen here impact the entire world, for better or worse. This building opened in 1903, and has seen over 100 years of continued use. If you walk by this beautiful building, you might even hear the bell that marks the opening and closing of the trading day.
One World Trade Center
A business center, a restaurant, and an observatory, One World Trade Center is a sight to behold. Standing at 1,776 feet tall, this building was constructed shortly after 9/11, taking over the day to day operations of the former World Trade Center.  It's a striking moment to America's endurance and it has some of the best views in the city.
Fraunces Tavern
Supposedly built in 1719, though some sources say it's even older, Fraunces Tavern was the site of some of the United States most formative events. George Washington used it as a headquarters during the revolution, it was where the peace negotiations for the war were held, and it held some government offices for a brief period of time after the writing of the Constitution. Today the landmark is a tavern and museum, so be sure to stop by, grab a drink, and learn some history.
Where to Live in Financial District
As stated earlier, FiDi's redevelopment has added hundreds of new buildings that locals can rent or buy. Homes here can be pretty affordable, but also insanely luxurious. Read on to find some great buildings to rent from or buy in!
Rental Buildings in FiDi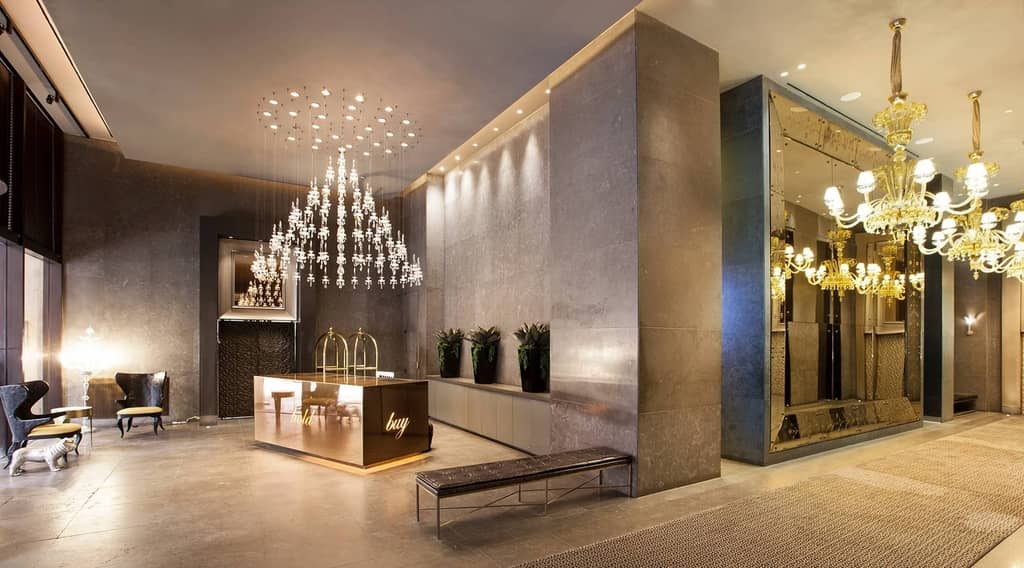 90 West Street
Built in 1907, but recently renovated, 90 West Street is considered one of NYC's first skyscrapers and now holds 410 luxury units. The average rent for a home here is around $3,200 a month, which is quite a steal considering where you are. There are even amenities like a gym, an outdoor terrace, and a lounge area!
95 Wall Street
A sleek building with a lot to offer, apartments at 95 Wall Street range from studios to three bedroom homes. Rental prices start at just over $3,000, and you get a lot for your money. This place has a fitness center, a rooftop terrace, and a children's playroom. They'll even help you find a roommate!
10 Hanover Square
Converted from office space, this luxury residential building will astound you. Close to the water, residents can escape to the roof to have gorgeous views of the East River and the City, or they can go to the lounge and play billiards or foosball. No matter what, you'll be renting an amazing home. Prices start around $3,800, so get in while you can!
116 John Street
Built in 1931, but recently renovated in 2013, transforming it from a commercial space into a residential one. This Art Deco wonder is listed as a historic landmark for its role in the financial history of NYC. Apartments can be rented for anywhere between $3000 to just under $6000 depending on how many bedrooms you need. 
180 Water Street
One of the newer buildings in FiDi, you wouldn't normally expect rental buildings to have pools. And yet, this one does, and it's even on the roof! They also have a fitness center and rooftop terrace, so this is definitely a complex to look at. Starting prices for rent are around $3,200 dollars, so check out these homes!
Condo Apartments in Financial District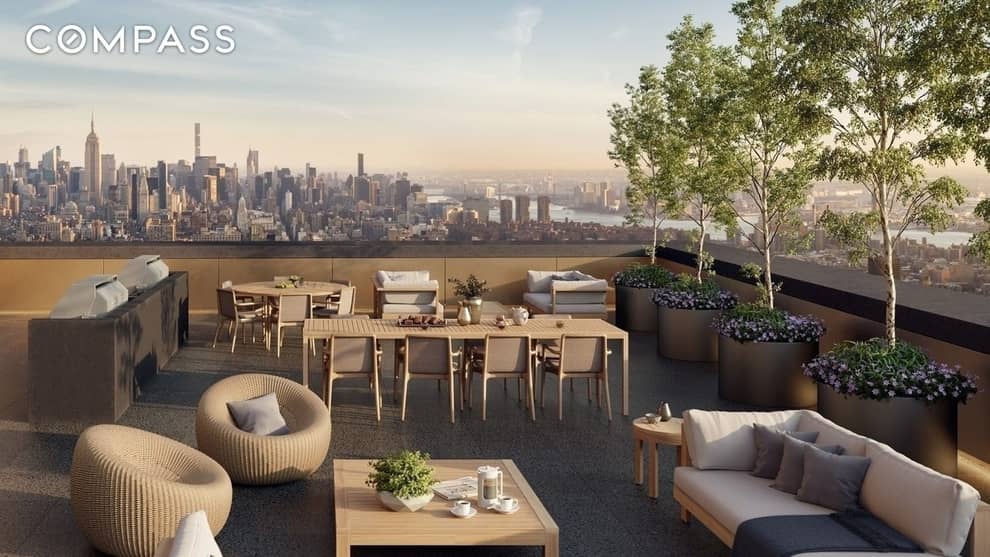 The Downtown Club
Formerly the site of the Downtown Athletic Club, this 45 story building has some of the best views in the city. Their rooftop terrace gives residents breathtaking views of the bay and the city, while the other amenities, like the fitness center and lounge, provide some much needed recreation and relaxation. Homes range from studios to two bedrooms.
The Collection
An Art Deco Classic built in 1928, The Collection is in the heart of the action. Formerly the Guaranty Trust Building, the large bank vaults have been restored and can be seen from the lobby. You'll love living inside this national landmark. Homes range from studios to three bedroom units.
15 William Street
At 47 stories tall, 15 William Street has a ton to offer residents. Their 30,000 square feet of amenities include a pool, a gym, a roof deck, a screening room, and a basketball court among other things. You'll be well taken care of here. Homes range from studios to three bedroom units, and they are quite popular.
130 William Street
An eclectic building from famed architect, Sir David Adjaye, this condo sticks out in a great way. You'll be living the life of luxury here, especially since you'll have access to a private IMAX theater, golf simulator, and spa. Homes range from one to four bedrooms, so claim yours while there are still some available!
The Broad Exchange Building
Built in 1902, this historic building once played a big role in the New York financial market. Now a residential building, this beautiful condo has a pet spa, an indoor and outdoor children's playroom, and a private event space with a catering kitchen. Most homes range from one to two bedroom apartments, but some three bedroom penthouses are available if you're lucky enough.
Parks of Financial District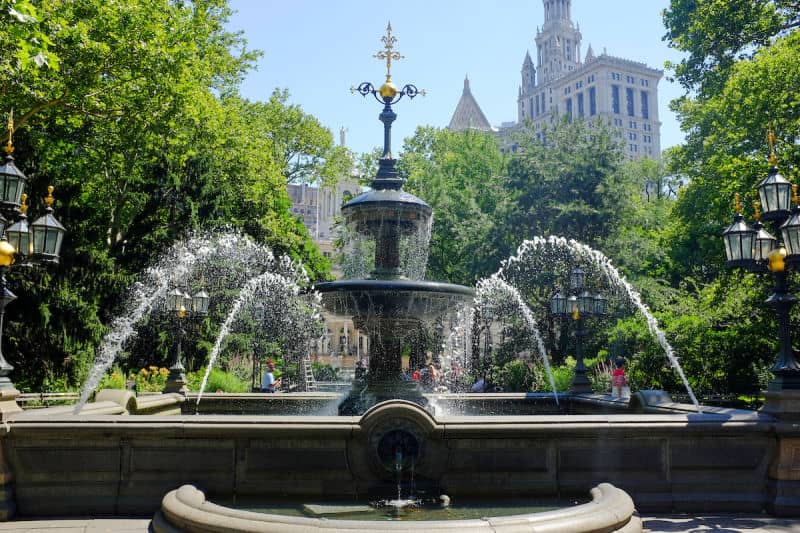 Green space in this busy part of town is few and far between. That said, you can find parks if you look hard enough. Havens of nature in a concrete jungle, these parks are full of life, even within their tiny borders.
City Hall Park
Surrounded by government buildings, including New York City Hall, City Hall Park is a popular spot for the workers of FiDi to sit, relax, and eat lunch on the nice summer day. The largest park in the neighborhood, this beautiful space is the perfect place to spend a summer afternoon.
Liberty Park
A small, one acre park next to the 9/11 memorial, Liberty Park is an elevated park with many sculptures that have been placed in memory of the tragic events of September 2001. Overlooking the World Trade Center Campus, this park provides amazing views of the surrounding area and is open to the public.
Bowling Green
The oldest public park in NYC, Bowling Green has been around since 1733. An important meeting spot, even before the arrival of colonists, Bowling Green is a popular spot for Wall Street workers who want to visit some green space during their lunch hour.
New York Vietnam Veterans Memorial Plaza Square
New York's official Vietnam memorial, this 90,000 square foot park is dedicated to the brave soldiers who fought in the war. The park details the history of the war and honors those who lost their lives. Close to the water, this park is a great place to spend a quiet afternoon, while also reflecting on an important time in history.
Dog Runs of Financial District
Fido can enjoy FiDi just as much as you if you know where to look! These dog runs have some good toys and amenities for furry friends, so come and check them out:
Fish Bridge Dog Run
This dog run is great for hot summer days thanks to the water feature and kiddie pool. This park is a bit skinny, but it's very long, so your pup will be able to get all their zoomies out before you get home. Right by the water, this run provides some excellent views.
South Street Seaport Dog Run
Right off of South Street Seaport is a dog run that's large and has plenty of things for dogs to mess around with. A large log, a little house, and a bunch of toys are available for your pet to enjoy. They'll feel like they're on top of the world.
East River Park Esplanade
A large park with separate areas for large and small dogs, this park wants your furry baby to be comfortable. They have clean water for bowls and kiddie pools for the summer. They have plenty of toys and space for you pet to run around and be goofy.
Traveling in Financial District
The Financial District is a well connected part of the city full of trains, buses, cars and bikes. This might be one of the easy neighborhoods to travel to, though it comes with some difficulties. Driving, in particular, is quite challenging, as FiDi doesn't have the grid system the rest of the city is known for. Instead it has many small streets that might not even fit two lanes of traffic. For this reason, many of the smaller, older streets are blocked off entirely to vehicles.
Trains – The subway system has many stations in the area. Trains with stations in FiDi include the 1, 2, 3, 4, 5, 6, A, C, E, N, Q, R, W, J, and Z lines. For specific Subway Stations and info, download the MTA app or visit their website.
Buses – While the bus system in the neighborhood is rather extensive, getting around in this fashion can be a bit tricky due to the roads here. Buses should be taken by those with plenty of time. The buses in the area include the M9, M15, M20, M22, M55, SIM5, SIM15, SIM34, BxM15, BxM18, QM7, QM8, QM11, QM25, BM1, BM2, BM3, and BM4.
Rental Bikes and Ride Shares – Uber, Lyft, Taxis and other car share options are widely available in FiDi. However, getting around can be tedious due to the complicated grid system. Biking, on the other hand, is a very popular option, and CitiBike has multiple docking stations peppered throughout the area.
---
The Financial District is a vibrant neighborhood with a growing population and nightlife. Though it's still a bit quieter in the evenings, the neighborhood has an emerging nightlife and shopping opportunities. Those who find themselves in FiDi, whether as a resident or a visitor, will find a historic neighborhood with plenty to do and see. So come on down to the bottom of Manhattan and check it out for yourself.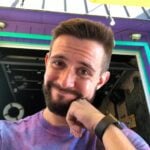 Russell is a writer and comic based in New York City. His plays have been featured at Penn State's Cultural Conversation's Festival, The NYC Thespis Festival, and Imaginarium's Inaugural Theater Festival. Follow him on TikTok and Instagram @pooleparty528