Nothing beats a big bowl of ramen paired with an incredibly hungry stomach. The warmth of the broth in conjunction with the starchy noodles is an unmatched experience that millions of people cherish worldwide. But what makes this dish so darn good, and more importantly, where can you try some of the best ramen that New York City has to offer? 
Many are under the impression that ramen is traditionally a Japanese dish. Where they are partially right, ramen is actually a recipe brought to Japan by Chinese immigrants after the Meiji Restoration in 1868. Since then, it has become a staple of Japanese cuisine because it is so quick and easy to consume and not to mention very affordable. However, depending on how the ramen is prepared, it can alter the price. The ingredients used in creating the broth, the toppings, and even the composition of the noodles can impact the overall cost of a bowl of ramen. The more complex the ramen, the higher the cost. Note, cup ramen (also known as instant noodles) should not be confused with ramen. 
According to Serious Eats, an award-winning food and drink website, there are various ways to classify different types of ramen. The four categories are Shio (salt), Shoyu (soy sauce), Miso (fermented bean paste), and Tonkatsu (pork). Of course, there is some variety to these flavor profiles. Over the years, people have adopted their own recipes through traditional practices and have created unique dishes of their own. However, the four categories are standard. There are also other things to consider with the construction of ramen such as heaviness, broth base, seasoning, toppings, and noodle types. 
Ramen is always a fantastic option regardless of the season. It can be affordable and easy to consume, in addition to being very filling. Enough talking about history. Let's cover where you can get the best ramen in NYC. 
Best Ramen NYC
View this post on Instagram
1.) Ippudo NY – 65 4th Avenue ($$)
Looking for a traditional Japanese ramen experience? If so, then Ippudo NY is the place for you. First established in 1985 in Fukuoka City, Japan, Ippudo Ramen has grown immensely. When people started noticing how well they perfected the traditional ramen profile of Tonkatsu ramen, they decided they wanted more. And their friends wanted more. And their family members wanted more. And through that, the word just kept spreading. 
Ippudo's Tonkotsu ramen is slow-boiled for over 20 hours using a unique in-house process, honoring the historical flavors of pork, chicken, beef, and or seafood with hints of soy sauce, salt, miso, and other special ingredients. Their noodle finesse is no.26, which refers to the number of noodles cut within a width of 30mm. This is important to note because the bigger the number, the finer the noodles, and the smaller number, the thicker the noodles. 
To visit this restaurant is to take part in a piece of Japan's history. The interior has a traditional restaurant setup with chairs and tables mixed with a traditional ramen bar setup with a counter you can also choose to dine at. The counter experience offers views of the kitchen so you can get a glimpse of what is going on – which is quite traditional in ramen restaurants. Unfortunately, you cannot make a reservation at Ippudo NY, which classifies their setup as a "first come, first served." If you don't want to wait at least 30-45 minutes, we recommend getting there before or after typical eating hours (6-8pm). There are locations around Midtown and Long Island City for even easier access.
View this post on Instagram
2.) Momofuku Noodle Bar – 171 1st Avenue ($$)
This culinary brand established by David Chang has attracted New York restaurant goers for years. With other additions such as a bakery, bar, and food magazine, Momofuku Noodle Bar has become a prized gourmet possession. After working and living in Japan for a while, Chang became fascinated with ramen shops and how they operated. At Momofuku Noodle Bar, chefs cook essentially whatever they like. They are given creative freedom that has received nothing but positive feedback since it opened back in 2004. 
The New York Times stated Momofuku Noodle Bar contributed to the "rise of contemporary Asian cuisine," with Bon Appetite calling it the "most important restaurant in America." But why are these notable publications giving such high praise? What makes Momofuku so culturally significant? Well, they are yet another spot that has put its own twist on the traditional ramen categories. Through their culinary creative outlook, they have been able to develop ramen dishes you can't find anywhere else. Momofuku Noodle Bar has a special sense of identity that is unique, idiosyncratic, and refreshing. Specifically, all their ramen bowls feature specialty barley noodles that are unlike anything you have tried in the past. They are also famous for their steamed buns with filler options such as pork belly, roasted shiitake, and seared shrimp. Dedicated customers swear by this place, noting that its quality never falters. 
View this post on Instagram
3.) Ivan Ramen – 25 Clinton Street ($$)
Ivan Ramen is one of the most successful ramen shops in Tokyo. With a cult-like status, you may be surprised to know this restaurant was started by an American… from Long Island! He went to Japan to teach English back in the 80s, and while he was there, he fell in love with everything-Japan. After attending the Culinary Institute of America, Ivan returned to Tokyo and opened up his ramen franchise. Currently standing as a critically acclaimed joint, Ivan Ramen serves thousands of customers from all different walks of life. 
The ramen served here is unlike any other. It is the depth and rich complexity of Ivan's recipes that have captivated the eyes of hungry customers. Remember the four categories listed before? Ivan incorporates his modern culinary experience with traditional styles to combine the two. For example, putting his own twist on Shoyu ramen. As much as we'd like to know the secrets behind Ivan's thought process, a good magician never reveals his secrets. Reviews state that it is impossible to describe how the food tastes, and you must just go and try it yourself in the Lower East Side. While Ivan Ramen is famous for its ramen, they also have incredible appetizers that are a must-eat. For example, the Crispy Eggplant, Steamed Pork Buns, and Japanese Fried Chicken. There is an option to reserve a table, but if you walk in you can usually get seated quickly.
View this post on Instagram
4.) Ichiran – 374 Johnson Avenue ($$$)
Ichiran offers a similar traditional experience to Ippudo with a very special twist that is practically unheard of in America, especially in New York, where people are conditioned to socialize. Here, at Ichiran, customers are invited to enjoy their ramen within an individual booth. You will be sat in a cubicle with borders in front of you and to both sides of you. The ramen will be served to you through a window with minimal interaction. This is called a "Ramen Focus Booth" which is implemented to promote a more intimate experience with your food. For you to really appreciate the flavors presented, you must have minimal distractions from the outside world. At that moment, it should just be you and your ramen. To order, you fill out a form that will ask you about the strength of broth, noodle texture, and toppings. Then you slide the form through a window, and eventually, out comes a hot dish of some of the most delicious ramen you will ever get your hands on. 
Don't be fooled, though, the dining setup is not the only perk Ichiran offers. Their culinary story began in Hakata, the home of the Tonkotsu ramen movement. The first step to their glorious ramen process is using their famous spicy red sauce, which is a blend of over 30 different spices and then aged to perfection. This is within all of their dishes, but the spice level can vary on desired taste. The next step is incorporating this spicy red sauce into the Tonkotsu broth. This broth is 100% extracted from pork bones using advanced technology and extraction methods practiced by chefs for years. Between these two practices, you are setting yourself up for some of the richest and creamiest ramen you will ever put into your mouth.
View this post on Instagram
5.) Ramen Misoya – 129 2nd Avenue ($)
So far, our list has focused a lot on ramen shops that serve Tonkotsu, Shoyu, or Shio ramen. It's time to introduce something a little different. Still adhering to the traditional classifications but offering a different taste profile than what has already been listed, Ramen Misoya makes three ramen dishes with miso as the base flavor. There is the Kome Miso which is the standard dish offering a very rich flavor. The Shiro Miso which is less salty and sweeter. Then finally, the Mame Miso, which is more bitter. 
The reason that Ramen Misoya favors a miso-base the most is due to the health benefits it has provided since its creation during the Edo period in Japan (1600 to 1867 BC). Miso is made up of soybeans, rice, or barely and salt, then fermented to let the ingredients really settle. It is a fantastic source of protein and has been historically paired with many other dishes. Why not feature it with ramen? 
The good thing about Ramen Misoya is that it is extremely affordable. Ranging from $13-$17 per bowl, you will get your money's worth. The portions are large and come with a hefty amount of ramen. You won't be shorted, not even by just a bite. This is just one of the many reasons why customers love it here. Aside from their prices and tasty ramen, the workers are also friendly, the atmosphere is welcoming, and the experience is one you won't want to miss out on. 
View this post on Instagram
6.) Shinka Ramen & Sake Bar – 93 Bowery ($$)
Nothing wrong with indulging in some of New York City's best ramen spots while sipping on some sake, right? Shinka Ramen & Sake Bar is home to the world-famous Bone Marrow Ramen awarded by the 2019 JapanFes International Ramen Contest. Open Mon, Weds-Sun, and offering both indoor and outdoor dining options, Shinka Ramen & Sake Bar has become a fan favorite on the streets of Chinatown in Manhattan. 
To begin your meal, there is a starter menu with recommended options such as the Spicy Tuna Taco and the Shinka Pork Ribs. After a half-full belly, you can easily transition into the main course, which consists of five different ramen dishes: Beef Bone Marrow Gyukosto, Miso Soy Milk (vegan option), Spicy Tonkotsu, Borrego Birria Ramen, and the Shinka Tonkotsu. However, they are most famous for their Beef Bone Marrow Gyukosto, so if you are a meat-enjoyer, this should be the first one you try. Both your appetizer and starter can be consumed with any one of their alcoholic beverages. The options range from sake shots to Japanese whiskey to cocktails. The most famous cocktails offered are the Lychee Martini, Matcha Mule, and Yuzu Margarita. 
View this post on Instagram
7.) Ryujin – 513 Grand Street ($$)
Manhattan isn't the only place to get a bangin' bowl of ramen. Brooklyn also has a few really great spots to visit. Right off the Lorimer/Grant St subway stop lies Ryujin, a delightful little ramen spot. Importing their noodles from Sapporo in Hokkaido, Japan, Ryujin is very particular about following traditional Japanese ramen recipes. Their space is decorated with gentle lighting illuminated by circular lanterns and wooden paneled tables that will make you feel as if you have escaped the streets of New York City and into beautiful Japan. 
Ryujin's Miso Ramen Soup is a customer favorite. However, you can choose from an array of choices that feature Tonkotsu, Shio, and Shoyu. They offer four different cuts of noodles that you can choose from upon placing a ramen order. Whether you like them normal, thick, whole wheat, or gluten-free. Ryujin has it all. One of the best perks about this place is that they also serve locally brewed sake. Usually, sake is imported from Japan, but you can get a taste of Brooklyn's take on the Japanese beverage right at Ryujin. 
View this post on Instagram
8.) Roc n Ramen – 606 E 187th Street ($$)
Located in or around the Bronx area? Visiting? Touring? Maybe you're not even close to the Bronx. Let Roc n Ramen be your reason to go. This casual restaurant serves up some of the best ramen in the area. Why? Well, because they combine traditional Japanese recipes with a Caribbean twist. Unheard of yet incredibly tasty. Called the "future of ramen" by ChopsticksNYC, this spot allows customers to eat a healthy, niche, and delicious meal. 
Right in the heart of the Bronx's Little Italy lies this unique spot. The serving sizes are decent, but if that is not enough, you can order double portions for an additional price. Roc n Ramen has a cozy atmosphere with Japanese anime constantly on the TVs in the background. On a date and bored out of your mind? Don't worry, there will be something to watch just in case! Their BBQ Chicken ramen is to die for. The distinctive taste of this dish is unlike anything else you will ever eat. If you like Jerk Chicken/Shrimp, we highly recommend getting the Curry Ramen with a fantastic contrast of spicy jerk seasoning and sweet plantain flavors. If this place is not somewhere that you would traditionally dine, you should definitely give it a try. Even if it is just once, you won't regret it.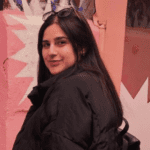 Carly is a freelance writer with interest in topics pertaining to lifestyle blogging, social justice, and anything to do with film/media. She graduated from the University of Wisconsin - Madison with a degree in English & Literary studies in hopes to write for a large music publication. When she is not writing, you can find her watching movies, cooking her famous Carbonara, and enjoying time outdoors.