New York City is full of cultural celebrations that happen all year round. From the great ones like Lunar New Year, to the annoying ones like SantaCon, NYC has no shortage of large and eclectic celebrations. In fact, there's one holiday that's both great and annoying depending on where you are in the city. St. Patrick's Day is a day of pride for the Irish community, but it's also an excuse for people to have a few too many drinks and pee in the street. Since both things are true about this amazing day, let's examine the good and the bad parts of the city on St. Patti's.
A Good Place: 5th Ave between 44th and 79th
This address might seem a bit vague, but that's because this is the route for the St. Patrick's Day Parade in NYC! The parade happens annually on the 17th and this year it starts at 11am. Whether you're there for the dancers, the musicians, or the educational elements, the parade is a great way to celebrate some Irish culture. So find a good spot, grab some friends, and watch the floats, celebrating this rich tradition, pass by.
A Bad Place: Times Square
I used to work in Times Square, and there are two days that would fill me with dread every year: SantaCon and St. Patrick's Day. For some reason, drunken tourists flock to Times Square to get into trouble. Adults pick fights with everyone who makes eye contact with them and teenagers think they're getting away with underage drinking by carrying around a gallon of Tropicana orange juice. Seriously, you could've picked any plastic juice container to hide your crime and yet you pick the gallon orange juice container? I'm just saying, if you ever want to hear a high schooler yell "You can't arrest me. My dad is a cop," then go to Times Square on St. Patrick's Day.
 A Good Place: The Crypts of St. Patrick's Old Cathedral
If you're someone who likes the spooky side of every holiday, then you'll love the crypts underneath St. Patrick's Old Cathedral. An NYC Irish staple, many people stop at the cathedral without ever adventuring deeper. However, that deeper is pretty cool, with some of New York's most famous residents, like Thomas Eckert and John Connolly, having tombs there. So take a spooky tour, and see what life was like back in the 1800's when the catacombs were built.
A Bad Place: Greenwich Village
Normally Greenwich Village is a great place to visit at any point in the year! However, there are two things the neighborhood has in abundance: college students and bars. Those things can be a pretty lethal combination under the best of circumstances. During St. Patrick's Day, however, all bets are off. Things get raucous, fast, especially if it's nice out and people go to Washington Square Park. It will be crowded, loud, and you will most likely see someone vomit, if not multiple people.
A Good Place: Molly's Pub and Shebeen
If you want an authentic Irish experience, head to Molly's Pub and Shebeen at 287 3rd ave. The food and drinks are amazing and the prices are just right for any budget, so everyone can enjoy. Experience some Irish culture in a much more intimate setting rather than just galavanting around town from bar to bar. One of their specialties is their Corned Beef, which is served with boiled potatoes and carrots. They have a large food and drink menu that will make you forget you're in NYC for a brief moment.
A Bad Place: Hell's Kitchen
This is another neighborhood that's normally a lot of fun. And, to be fair, the residents aren't the people you have to worry about when it comes to large holiday crowds. That said, Hell's Kitchen has a ton of bars and is right by the Port Authority Bus terminal, where many tourists will be coming from for their St. Patti's debauchery. The whole of Midtown will be full of people, but 8th Ave especially will be raucous and rowdy, with all the bars trying to make a profit while also trying to avoid property damage. It's best to maybe avoid Midtown altogether.
A Good Place: A Party Cruise
I'll admit that I've been negative about the NYC party scene in this article. It's just difficult when a bunch of tourists come into your city to get drunk and destructive. Truth is, I love going to a good party on St. Patrick's Day, I just don't like being around the huge crowds. That's where river cruises come in! There are multiple boats that will take you out on St. Patti's, and they are a great way to party hard while avoiding the chaos of Midtown.
A Bad Place: At Home Alone
St. Patrick's Day can be annoying if you're in a busy place. That said, there's a ton of fun stuff to do in the city that doesn't involve being in a large crowd of silly geese. Even if you don't want to go out on the town, have a few people over for a nice Irish whiskey! Holidays are meant to be celebrated with people you love. So take a look at some of the good stuff on this list, or go exploring!
New York City is full of cultural events for every holiday in the world. For holidays like St. Patrick's Day, these celebrations can get hectic. That said, there are many places in the city where you can have fun and respect cultural traditions. You might even learn some new stuff if you look hard enough. So this St. Patrick's day, go to the parade, explore some catacombs, eat an authentic Irish meal, hop on a party cruise, or have a chill evening at home with friends. No matter what you do, you'll be celebrating St. Patrick's right…Unless you go to Midtown. I cannot stress enough how bad it gets on St. Patrick's.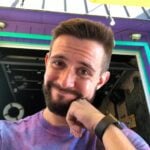 Russell is a writer and comic based in New York City. His plays have been featured at Penn State's Cultural Conversation's Festival, The NYC Thespis Festival, and Imaginarium's Inaugural Theater Festival. Follow him on TikTok and Instagram @pooleparty528